Want to learn more about the functioning of our company and our news? Read the articles below.
An easy way to get your new products with Innovative Vouchers
The Slovak Innovation and Energy Agency SIEA, in cooperation with the European Regional Development Fund, has launched a call for applications for financial support for innovative projects. Thanks to this support, it is now much easier to get your new product into the world and market to customers. Our company i2-industrial innovations is certified by the Ministry of Economy of the Slovak Republic for professional research and development activities, our experts have many years of experience in designing new products, optimizing, testing and putting functional prototypes into small-scale, large-scale to mass production. Thanks to our technologies and experience, we are able to significantly accelerate the development of the product and thanks to innovative vouchers, the costs of developing your products will be reduced to a minimum.
How do innovation vouchers work?
the amount of the innovation voucher is between €2,000 and €15,000 up to 85% of eligible expenditure
reimbursement of an innovation voucher is a form of pre-financing
applicant may submit up to 2 projects applying for a financial contribution, their common value may not exceed EUR 15 000
the call was launched on 22.6.2021 and can be involved for 3 months
the voucher can be applied directly to R&D related services of new products, among other activities
the applicant submits an application in the project preparation phase, selects the selected solver of his project from the qualified entities and, after the voucher has been approved, implements the project within 6 months
What can you use innovation vouchers for?
Innovation support training: Employees can participate in tailor-made training courses and programmes or specialised trainings, e.g. for innovation management and deployment, expansion of a portfolio of new products or services, building technical skills and competences for the use of new (innovative) technical equipment and practices in enterprises
Acceleration (support) of innovation :Advisory services that enable the company to prepare and implement innovative solutions to improve processes or market a new product.
R&D support : Advisory services to support the development of new and innovative solutions (products, services and processes) and the improvement of activities aimed at building their own R&D capacities. For example, you can optimize the production process in close cooperation with the solver to reduce product costs, devote themselves to the process of developing new products or improved solutions, designs, prototypes, etc.
Who can apply for the allowance?
natural or legal persons who have their registered office or establishment in the Banská Bystrica Region and have been engaged in business activities for at least 12 months
For more information on innovation vouchers, see inovujme.sk
See previews of our completed projects and do not hesitate to contact us as a solver of your innovation project. We know exactly what you will need to get an innovation voucher and we will be happy to help you with this.
Fast and exact prototype production for innovators and artists

3D printing can easily create shapes and angles that would be too complex or costly to achieve with traditional production methods. At the same time, it offers huge possibilities of coloring and properties of materials. However, the advantages and versatility of 3D printing would not be enough for these applications for innovators and designers. The experience and professional skills of modelling, product design and design are needed directly  at the prototype manufacturer in order for the product to be functional and at the same time suitably adapted for the production technology. The customer expects the product to fulfil certain functions, but the experienced expert can draw attention to possible challenges and propose improvements that the customer himself did not even think about and will ultimately significantly increase the value of the product. In such a process of designing prototypes, which have a chance to get on the market also in large-scale production we believe in i-industry. In i-industry, there is a team of experts who solve innovative and design projects every day and help materialize the customer's vision by designing functional solutions. It is confirmed to us that the sponsor greatly appreciates that he does not have to think about everything on his own, but has in us a team that he can rely on and turn to for consultation at any time.
Selection of recent prototype projects that we have materialized for designers and innovators
The Wall-e robot was produced by an i-industry company for Zlatoš Family, which provides innovative and healthy eating, an application for the unos private school in Nitra. After production, the customer installed a computer and food sensor. In the belly of the robot children put a plate with uneasy food, the system takes a picture of the plate and evaluates how much of the portion the child has eaten. On this basis, they can evaluate which recipes are successful and how to make the diet properly balanced and at the same time interesting for children.
Prototype furniture for designer Yva Gond, Wrinkles collection for easier life not only for seniors. Universal furniture combining modern shapes and practical backlighting was produced by i-industry with 3D printing to ensure the required strength and low weight for better handling of furniture.

Almost 2 meters high modern sculpture of a dog made in i-industry made of lightweight plastic for the newly opened showroom Dogs Square SkyPark Bratislava. The sculpture was made in 3D printing, the surface sharpened and painted white, part of which was the design of a suspension system for installation in the ceiling, the sculpture is placed above the sales counter. Photo: Lenka Németh
Artistic sculptures of teddy bears i-industry pushed and prepared the surface for painting for the artist Marro, who is dedicated to the creation of paintings. The customer expands the portfolio and offers authorial art accessories to the interior, which are each piece a colored original.
Personalized suing covers for off road vehicles. The customer invented the product and the i-industry materialized in its company colors with a logo in the serial production of hundreds of pieces.
Our experts have several years of experience in designing and designing new products as well as deep knowledge of production technologies and materials. For consultation of your innovator and design project, please contact us: kovacik@i-industry.com
We form, bend, cast, cut, weld and dye, or news in March 2021

We regularly work in our company to improve and launch new technologies and processes, although the beginning of the year was very time consuming we managed it and we expand our production processes.
During the first 3 months of this year, we successfully launched: Serial production of blisters using vacuum forming, prototype casting of silicone products and cutting metal products using a cutting laser into plate materials and tubular materials.
Serial production of blisters:
We have been working on the production of blisters and vacuum forming in our company for almost 2 years, we have successfully managed to improve processes and at present we also provide our customers with serial and mass production of blisters, whether they are simpler products or complex founders for lines to the automotive industry.
Prototype casting of silicone products even in smaller series.
Currently, the injection of silicones into metal forms for their high price is becoming less and less available during prototyping. The high price for molds in the prototype phase of the project discourages almost everyone if they need only a few pieces to start with. We have managed to improve this process and we are casting perfect products into prototype moulds that cost 1/4 of the price compared to metallic form and in some cases much less. Silicone suppliers already have such a wide range of materials, hardness and colours that everyone really chooses from them. With us, we have brought this process to perfection and we bring this service casting prototypes and smaller series up to 1000pcs for everyone.

We expand metal production and painting of parts.
During the first 3 years in our company, we focused only partially on 3D printing and metal production, as we want to bring you our clients the best and most cost-effective solutions, we want you to have with us , under one roof,, all possibilities of production of parts, not only plastics but also metals. Therefore, we extend the official metal production by turning, milling, laser cutting of board as well as 3D laser tubular materials and trimming.
If necessary, we will also provide powder coating or spraying.
Due to efficiency and experience, we can offer you economic production at unbeatable prices.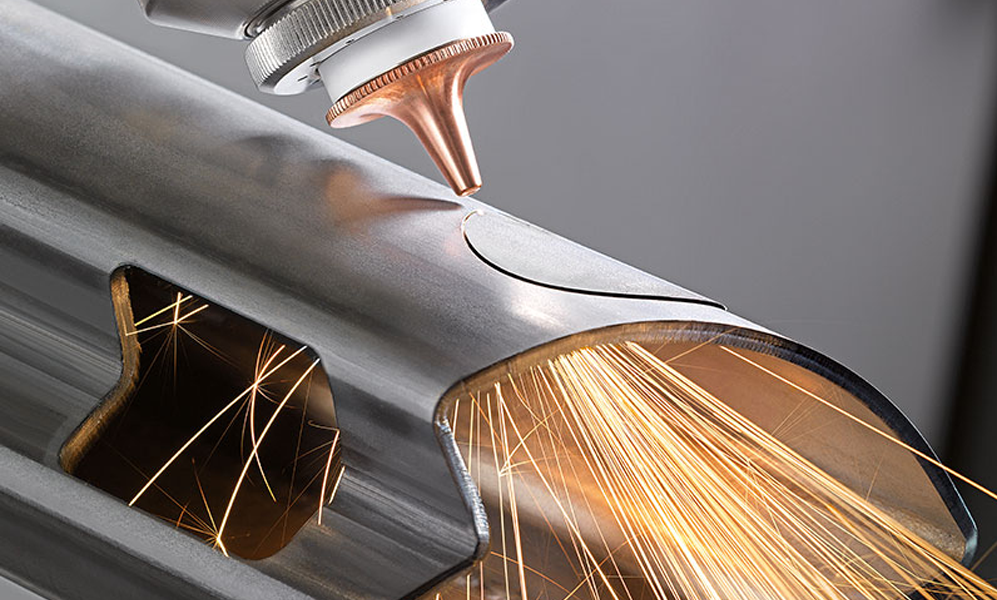 Cutting and bending plexiglass up to 10mm thickness
Thanks to our skilful colleagues, we have built an industrial bending machine for plexiglass, so we can produce and bend various shape covers, holders or bases even from thick 10mm plexiglass.
We have the largest application of these products in the automotive industry in the production of covers for robotic workplaces.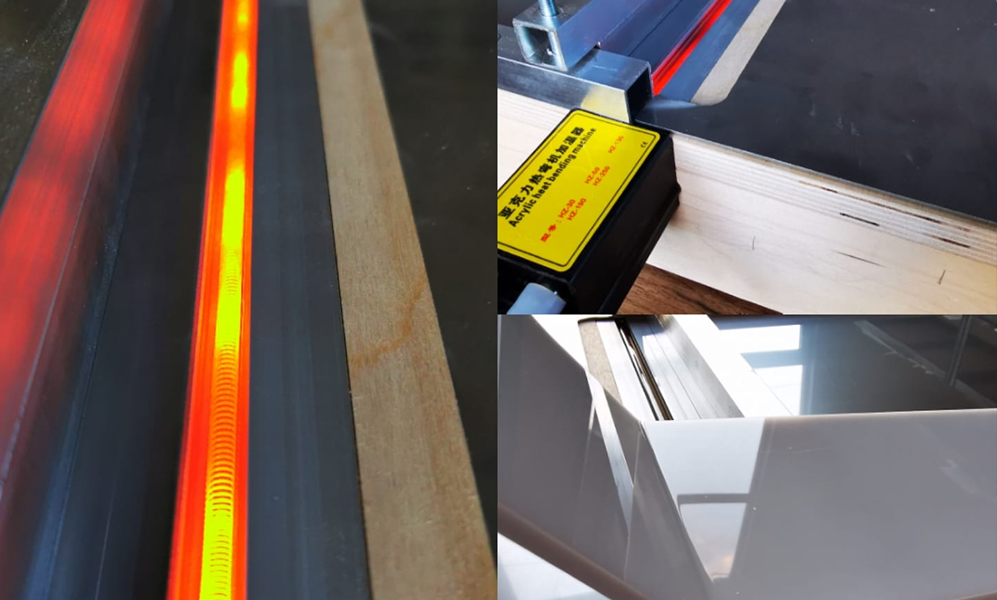 We help companies reduce costs
i-industry was founded three years ago to help companies reduce production costs. After decades of experience in the field of development and knowledge of almost all production technologies, its experts are able to find a suitable solution for customers in reducing the cost of a product or product. We offer you two case studies and expert experience in their implementation.

CASE STUDY: REDUCING PRODUCTION COSTS – electronics boxes

The customer needed suitable boxes for the new product, where he could plant his electronics. They do not produce large quantities, so they understood that mold preparation and injection production is not appropriate, as the costs would be high. In search of an alternative, they found similar boxes to the boxes they had planned to buy. In order to be suitable for them, they had to be modified
machining. As a result, however, costs were still high.
Since the consumption of boxes was 200 pieces per month, they tried 3D printing. They sent us a 3D model,
that we have optimized for printing. Production took place within 24 hours and as a result we reduced the cost of production by up to 50% to the customer. Thanks to our large production capacity, we now provide 3D printing in the number of 200 people per month.
CASE STUDY: PRODUCT OPTIMIZATION FOR 3D PRINTING – probe holder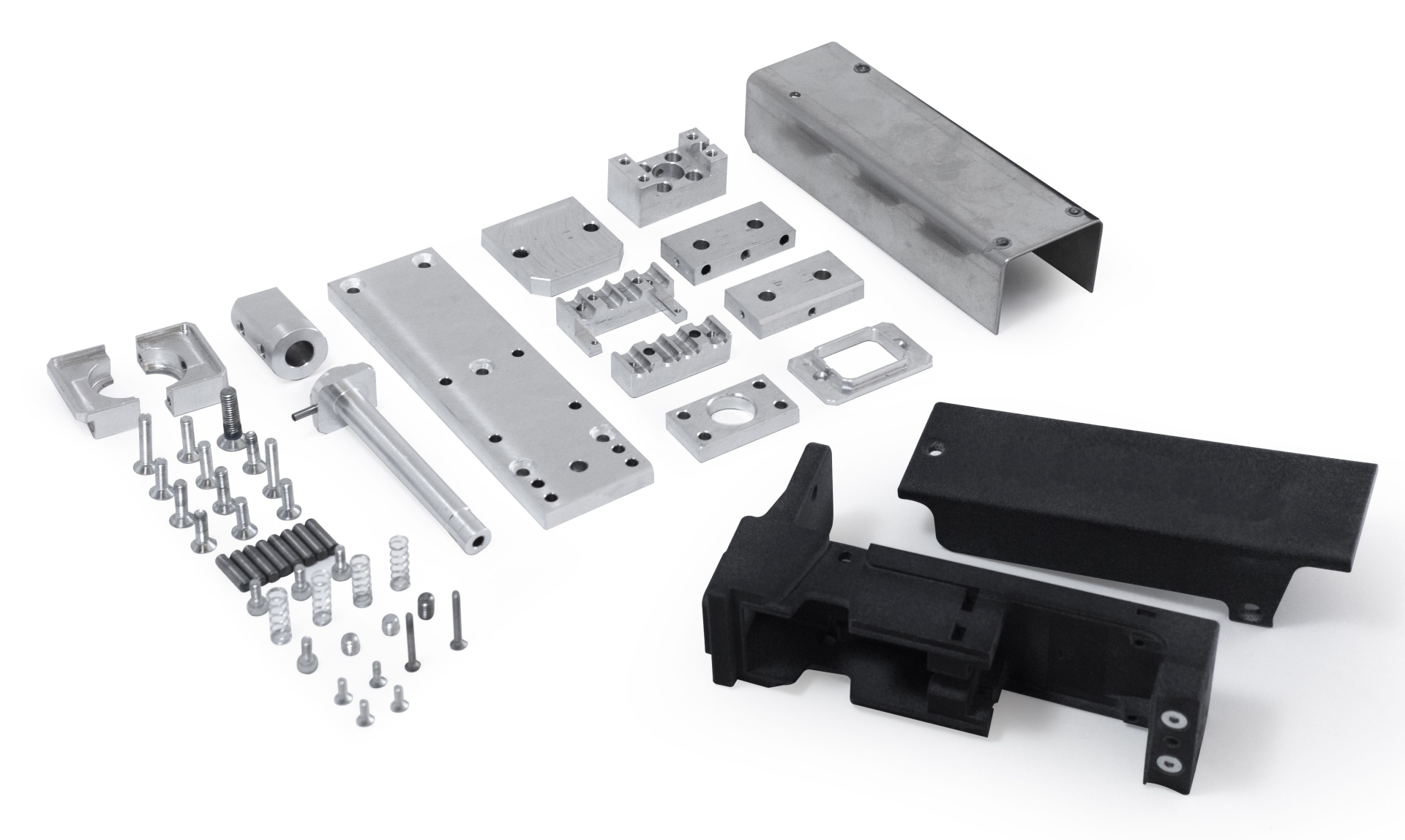 The new product does not always think about costs, the same product was also a holder for measuring probes. The product consisted of dozens of metal parts. A large number of parts, the risk of missing screws, and high production costs led to product optimization. CNC machining from one piece
it was uneconomic, it was not enough to produce by injection.
Product development experts have proposed a change to plastic material and aligned the parts. They optimized the product for 3D printing from technical plastic PA12.
We were able to improve product quality, improve design, reduce the number of parts from several dozen and also save the customer more than 50% of the original cost of the product.
When does the customer search for 3D printing and injection of plastics?
In most cases, it needs to make a prototype. We can help him in a number of ways. Either print the prototype with 3D printing or if it plans to produce it on an injection plant in the future, we can also optimize this prototype for injection technology. We provide mold production and injection of pieces and, if necessary, assembly, storage or logistics. We can also ensure complete product packaging and distribution. This comprehensive service is mostly sought after by new companies, start-ups that market a new product. Thanks to our services, they do not need to look for an assembly company, they do not have to rent warehouse space, they can solve their business from home at first and we will take care of the others. Another group of customers is turning to us if, for example, parts in production go wrong and need to replace it quickly, they need to model and produce parts that are no longer produced or cannot be delivered by the supplier within the required time limit.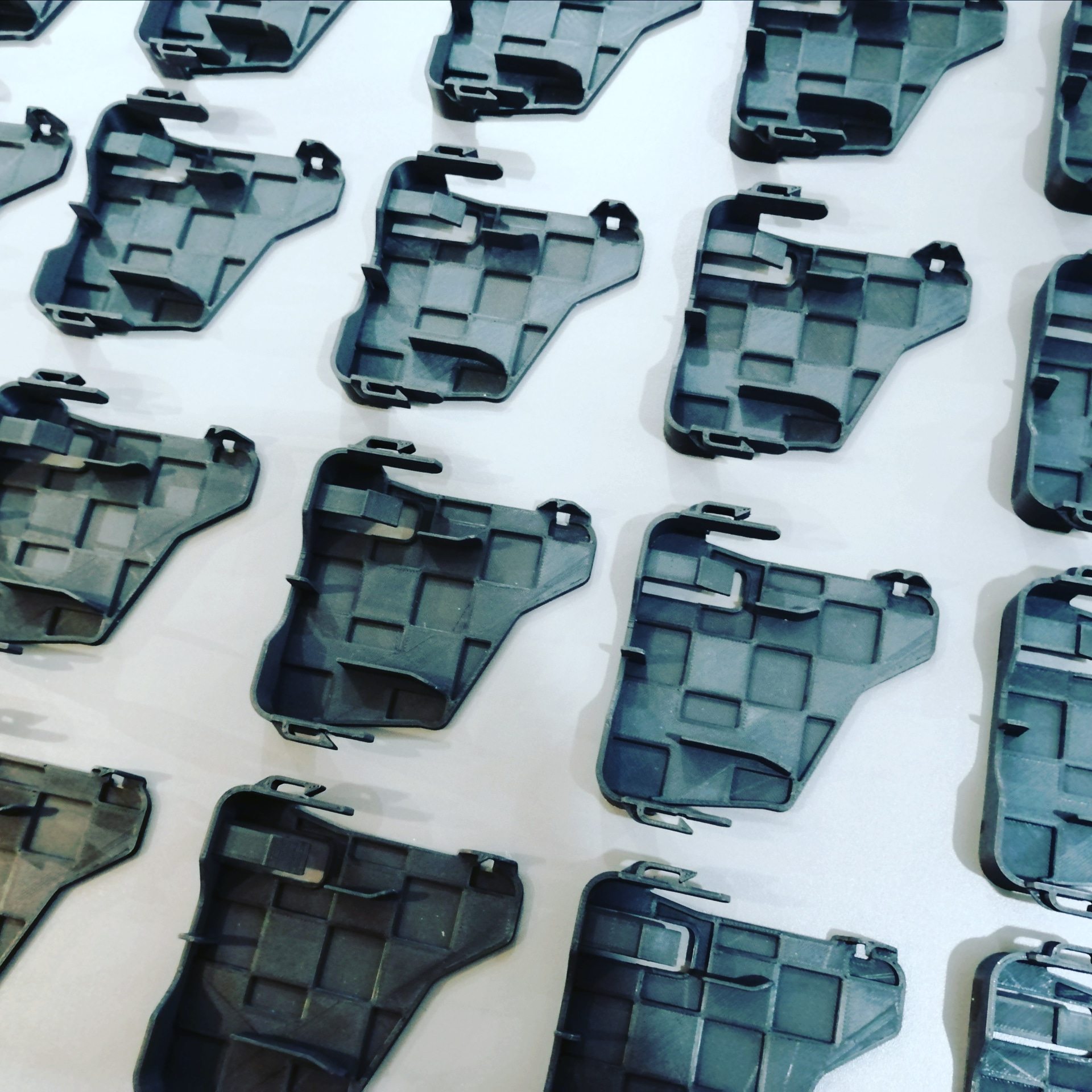 What features can I expect from 3D prints?
We use materials from eco-friendly plastics that are compostable to technical plastics that can withstand chemicals or 100ºC when used or metals. We can print design products in full color, such as architectural models or characters, which are a faithful copy of scanned characters. 3D character scanning is a novelty that allows you to have your scaled-down piece at home.
What are customers turning to you for?
Recently, we have heard from customers that they need to print large plastic products. Until recently, customers were looking for this option, but they did not find it in Slovakia. We can print products up to 1.7 meters from one piece and larger by connecting. For example, we produce designer pieces, sculptures, car parts, teaching aids or presentation items for museums. Last time it was a high design lamp for the exterior.
For what number of products do you recommend 3D printing and when is plastic injection already?
It's very individual. In our experience, it depends mainly on the final price of the product and the time when the customer needs the products quickly. Most of the time, up to 5,000 pieces are more economical 3D printing and over 5,000 pieces of injection. Large-scale production on 3D printing is chosen by customers who need to start production and get the first pieces very quickly. For example, if their supplier of plastic parts fell out. For injection, it is necessary to first make molds, which can take 4-6 weeks. 3D printing can be started immediately. We assess each product individually and the customer receives calculations for all types of production technology so that he can make a decision and choose the right solution.
3D printing in i-industry: "With our services, we help companies thatoftendon't primarily look for 3D printing.
They simply want better products and optimise production. And we can do that. We'll find the right solution."
In the team we have experts in product development, technology and introduction to production as well as to the market. The first step is to contact us with the product or with the requirement to find a solution to reduce your costs. We will arrange a free consultation with you at the company or you can visit us, just make a phone call or send an email. After consultation, we will find together a suitable solution and we can also ensure production. How we help our customers:
• We find an economical solution of production
• We will help with the development of functional prototypes
• We will propose improvements to existing products
• We provide large-scale production of plastic parts even without the need for moulds.
Article published in the journal Engineering 12/2020.
Production without the need for moulds
Serial production without the need for injection moulds? YES!
Production without the need for moulds will save the cost of production and reduce the delivery of parts from a few weeks to a few days, in some cases delivery is possible even within 24 hours.
Thanks to our technologies, we can provide you with the production of plastic as well as metal components in large series even without the need to produce injection moulds.
If you need fast and inexpensive production of parts, you do not want to invest in the beginning in the production of injection moulds, you are in the right place.
We produce from 1pc to 10000pc+ per week without the need for injection moulds with delivery of the first pieces within 24 hours of ordering.



We have obtained a new accreditation – 19.11.2020

On 19.11.2020 our company obtained from the Ministry of Education, Science, Research and Sport of the Slovak Republic the accreditation to carry out research and development. Thanks to this step, our company is moving forward in our other planned activities.
We start the staining process – Hydrography 
Today we are successfully launching another process of finishing parts – hydrography.
Hydrography is a modern technology for surface treatment of objects. It is known worldwide as Water transfer printing.
Hydrography works on the principle of watering the required objects into an application bath with water, on which the surface is placed a special color, released from the hydrographic foil.
Hydrography is applied by a special method using films printed with a graphic image and application tub.
It is mostly used for dyeing plastic (also 3D printing products) as well as metal products.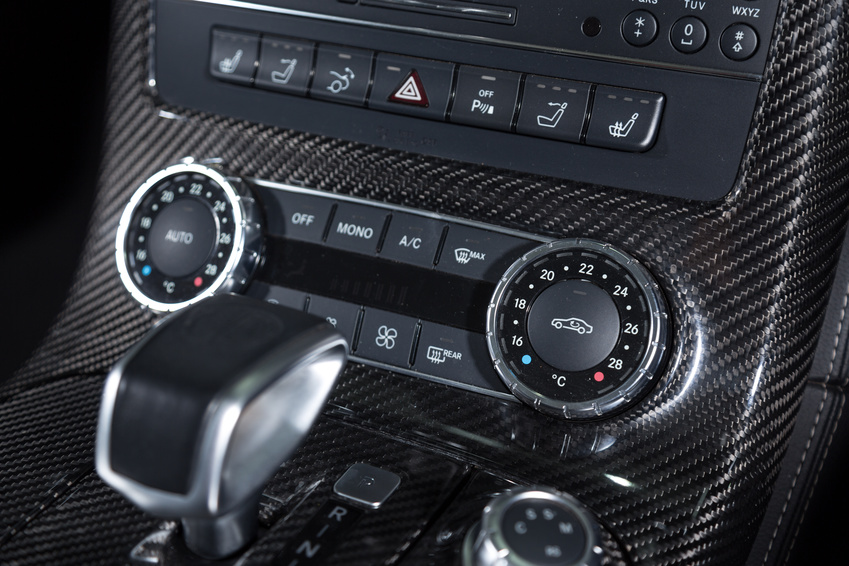 3D printing and injection – hand in hand in modern manufacturing

In the early days of 3D printing, it seemed that this technology would be nowhere to compete with plastic injection, but the development of this technology ensured that 3D printing is not only competitive and low cost, but also that it can go hand in hand with plastic injection.
When do we use 3D printing when injecting plastics?
In the production of extra fast 24/48 hours. prototype forms.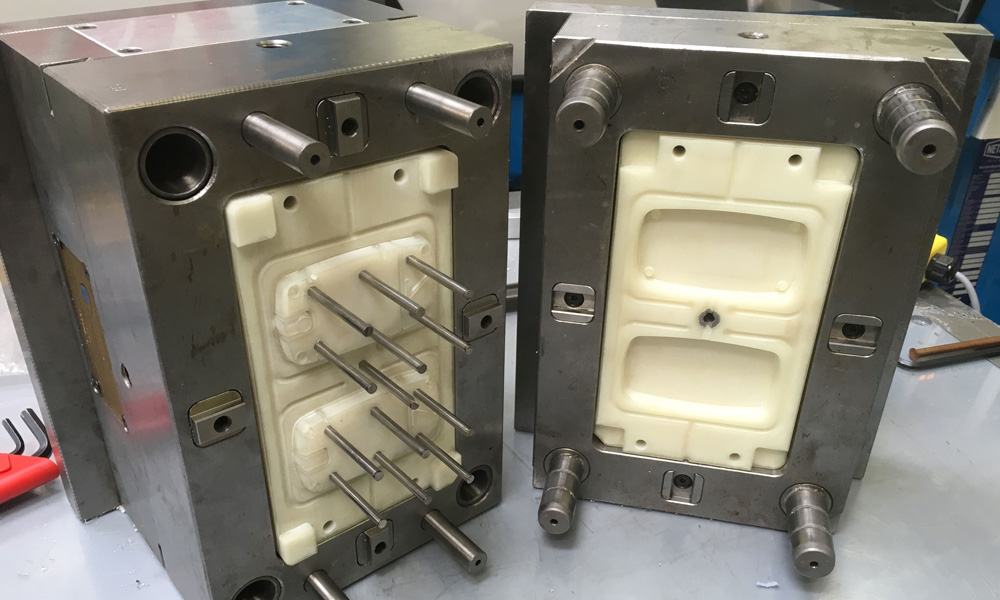 In this case, we can save our customers thousands of euros. When you need plastic moulding and you can't use 3D printing or machining, it's the right way to save money.
The whole process consists in the installation of printed inserts using a 3D printer made of a special temperature-resistant material. Printed inserts are inserted into the universal frame that we already have made for such applications and then 5-20 products are sprayed, such a form will not last thousands of pieces, but with simple products we can produce on the injection mould using such a mold the product even within 48 hours.
We also use a similar process in serial production, where the same frame can be planted with dural inserts on which injection production can run even in 10,000pcs+ with good care. We also have these inserts pre-prepared and in case of urgent delivery of parts to these inserts we will mill the desired shape of the product and start production.
These production options are suitable as a priority for simpler parts, but this does not mean that it is not possible to produce even the most complex ones, only in this case it is not possible to manage production within 48 hours, but only in a few days.
Either way, thanks to 3D printing, it is possible to reduce the delivery time of the prototype from the injection moulding device from weeks to several days.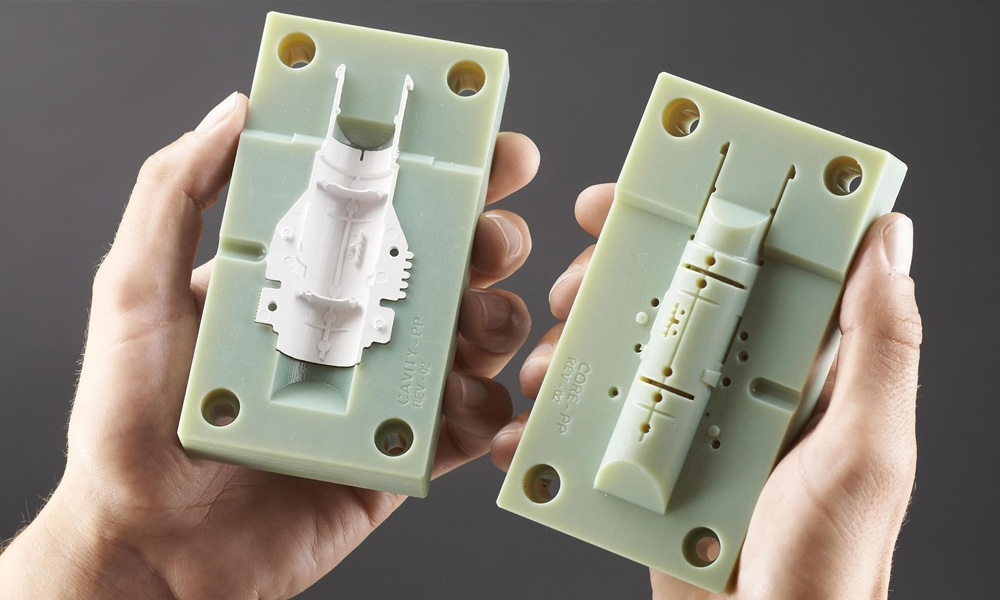 Written by: Martin Kováčik, 7.10.2020
We are preparing for the future of production

It wasn't that long ago that the first companies filed patents for 3D printers. As always with new inventions, some people have been skeptical of this technology. Even nowadays, there are many individuals who consider this technology to be slow and expensive. However, the opposite is true and the future for 3D printing looks even more hopeful.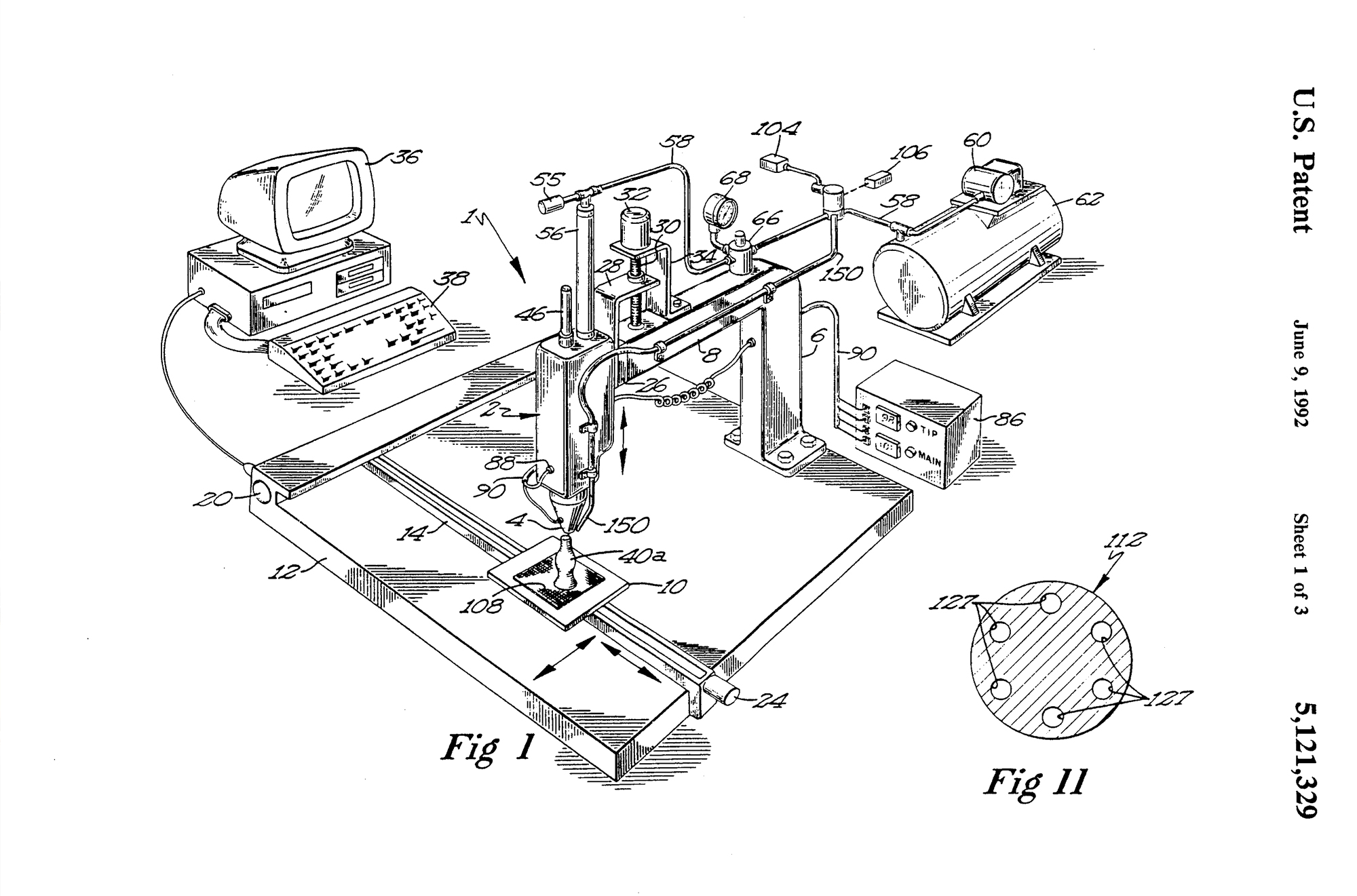 Serial production of plastic components using 3D printing
As the largest printer supplier, HP did not sleep and continued to develop 3D printers. It was the best move HP could take. They successfully manage to bring to the market printers that also provide us with large-scale production of plastic components. Thanks to their unique technology, we are able to print technical plastics and functional parts at the same time. The entire HP MultiJetFusion 3D printer system is designed as a production device, which means that the printer can print almost continuously. Print builds from the material are prepared outside the printer, and as soon as printing is complete, only the print volume is replaced with the next one, and printing can continue. Production is adapted so that in smaller series up to 10,000pc it can compete both in price and in time with plastic injection, as injection moulds are not needed to produce components.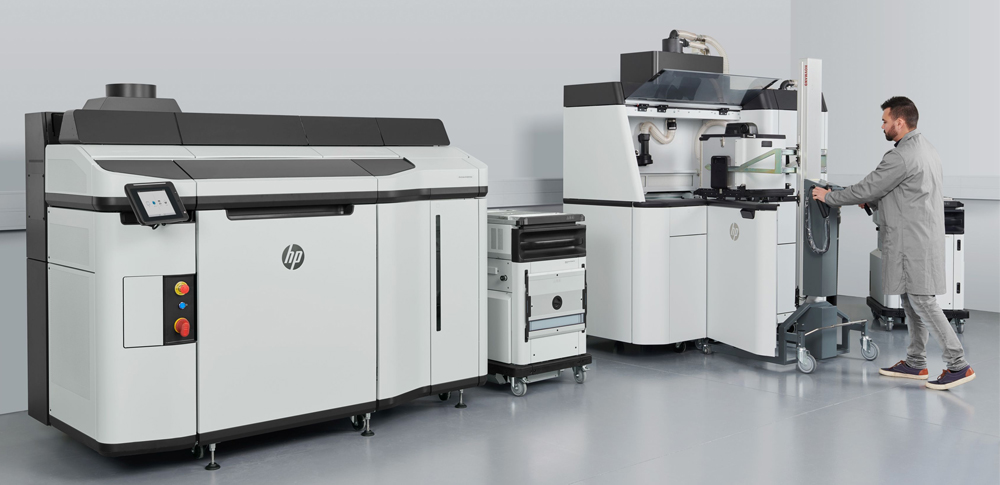 Serial production of metal components using 3D printing
Not only HP but also 3D systems and other companies prepare their production facilities as production facilities. This means that it is now possible to produce large-scale and not only plastic parts, but also metal parts on 3D printers.
HP plans to launch an HP metal jet production printer as early as this year. Production is carried out by applying the binder to a layer of powder material – metal and then curing the layer by the action of a lamp. This is how each layer takes place and the result creates a product – Green part. Green part name has already come with metal injection technology – MIM – metal injetion molding. This is a product that does not yet have the required strength of the metal component because it contains a binder – a carrier of metal powder and that the all-metal binder needs to be removed. The green part is processed after printing in a sinter furnace where the binder is removed and the metal powder is melted and sealed. After these steps, we get the final all-metal product. In the beginning, stainless steel material will be available and more will be added. This technology is intended to replace MIM technology for injecting metal materials into moulds, thereby reducing delivery time and reducing several thousand costs in injection moulds.
Not only is HP preparing for the future, but 3D systems already have production 3D metal printers at its disposal. Production is carried out by sintering of metal powder using a laser and gradually layering the material. The 3D systems model Factory printer fuses when it comes to preparing material similar to HP, the material printing chamber is prepared outside the machine, after the printing process is finished, the print chambers are replaced and the printing continues, it is for speeding up the printing process. It is not necessary to wait for the print chamber to cool down in the printer premises, which in some cases can take up to 20 hours, but it is easy to replace the print chambers as soon as printing is complete and a new process may start.
Maybe you're asking why I'm writing about the future? In fact, it is no longer the future, but the present, large-scale production using 3D printing has been going on in our company for almost 3 years. It turns out that such production is efficient and can also be economical, therefore we are also preparing in our company for the future of production and gradually plan to expand our production with the technologies mentioned above. As a result, we can bring you, our customers, additional and efficient possibilities of mass production using 3D printing.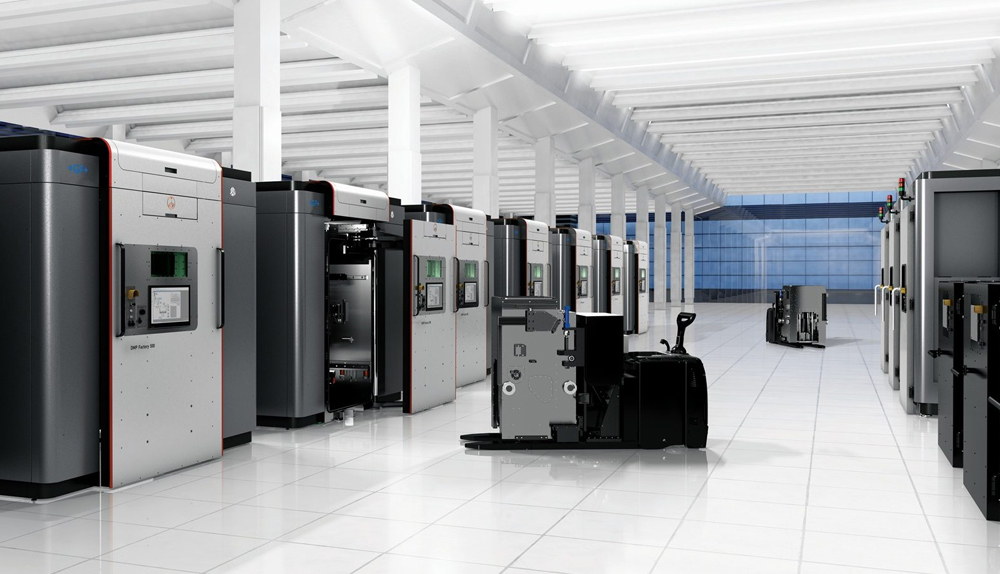 Written by: Martin Kováčik
We are accelerating production, reducing your costs!

Everything in the world is accelerating, whether it's ships, cars, our life or our production. Everywhere the emphasis is on speed and quality, who can not react flexibly does not stand a chance these days.
Our company has also chosen in this direction and our goal is to provide our customers with delivery of either new parts or replacement of production in the event of a failure of your current supplier.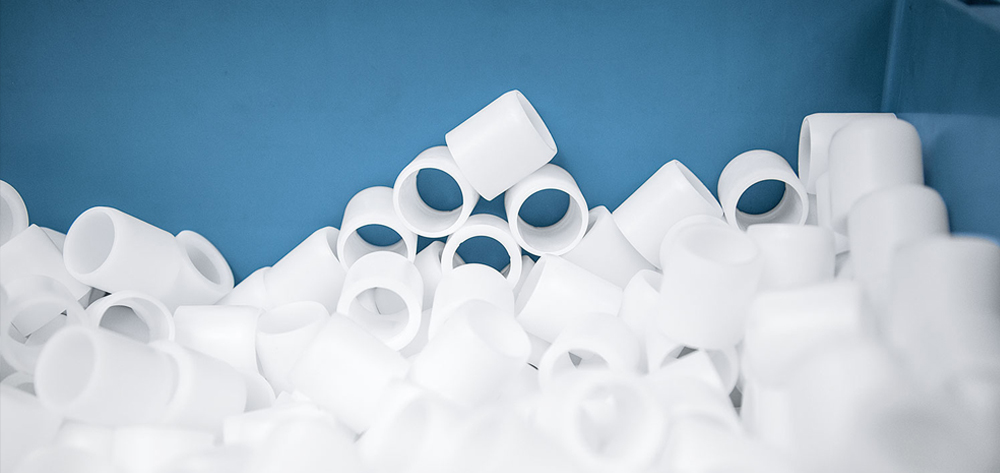 We have more production possibilities in our company.
1.possibility and almost immediate production is possible with 3D printing, often used by our automotive customers in case of supply outages from the current supplier. Since we already have more than 60 machines in our company, we can produce hundreds to thousands of pieces a day, of course, with an eye on the low price of production. The price of 3D printing is already so low that in some cases it can be even cheaper than plastic injection production. Thanks to countless materials, technical plastics are already used for production, which achieve the necessary strengths and it is possible to produce functional parts.

2.possibility is production by injection. In our production we have mini injection mouldings for components of approx. 5x5x3cm – depending on the final shape and large 160tonin injection mouldings from KraussMaffei that can spray products weighing up to about 200grams. Thanks to our own CNC machining center, we are able to produce dural injection moulds in a few hours to days, which, although softer material, can withstand 100,000 closures with good care. Dural moulds are cheaper and easier to produce and can easily meet your needs.

3.possibility is by machining – CNC cutter, although it is from the last possibilities but it can still cover your needs and can produce products made of steel or plastic and deliver them in the necessary time.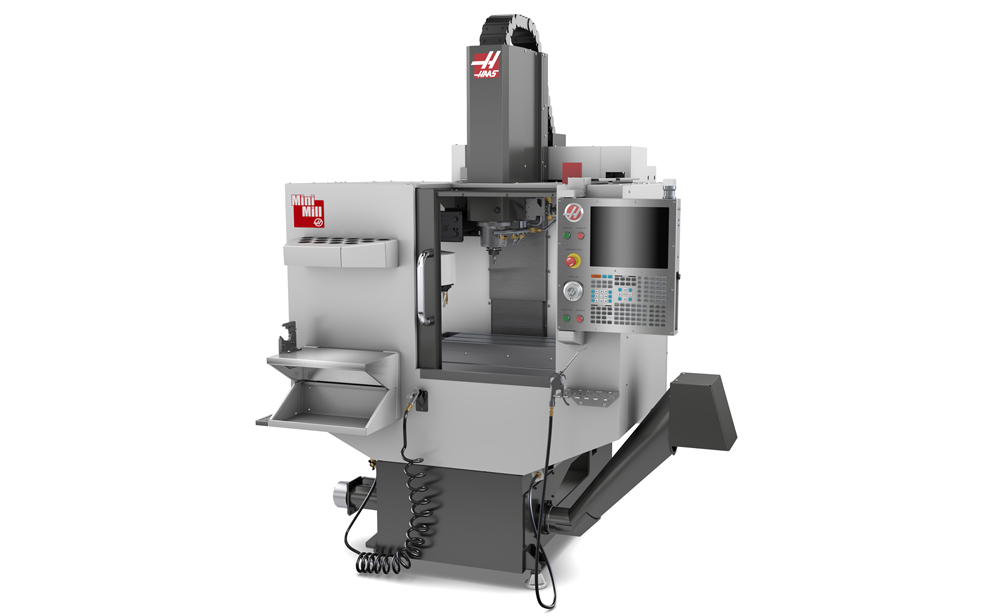 In addition to serial production, we also use all our technologies for prototyping. We have proven that, in comparison with, for example, 3D printing of more complex metal or plastic components, production costs are cheaper than in conventional CNC machining.
The aim of our company is to produce quickly, quality and at the best available price on the market. Therefore, you have several available production options with us right away. If you want to find out which is the right one and the most economical for you, do not hesitate to contact us, we will be happy to advise you.
Innovators met in Vrábľy
16-17.9.2020 our company as one of the innovative companies in Slovakia participated in Inofest in Vrábľy. Read more about the event in the article by Prof. Ján Košturiak.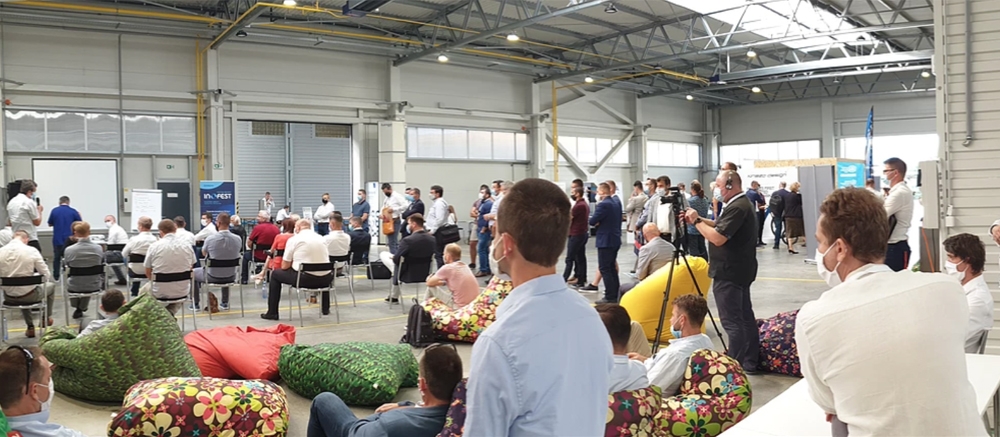 During the spring months, the country stopped. Some "businessmen" lamented and wrote letters to the government. Real entrepreneurs and innovators have innovated. Many interesting solutions were created in a very short time. Fragile firms have been shown to decoule in unexpected crises and anti-croke companies are coming out stronger.
A few weeks ago, ľub Švec in Inovate Vráble and I said that we could do an innovation festival for these companies. He said such actions require months of preparations and hundreds of thousands of budgets. We didn't have one or the other. In a few weeks and several thousand euros, excellent action was taken. Perfect discussions in workshops and excellent discussions directly with business owners and innovators in the works they are working on. We don't need to put on ties and suits and go to flashy shows. We feel best in a workshop where machines are roaring, oil smells and a government work mess smells.
I felt great there for two days, between my pupils from the University of Business and the people with whom I worked on many projects – Ľub Švec, Miloš Olejár, Paľo Harvan, Nora Bratho, Peter Ballon, Patrick Paul, Slav Ozaník, Lenka Olejárová, Ed Kovalev, Miška Hrabovca, Vlad Šuch, Stan Martinec, Vladko Maslák, Mir Kunsch, Jar Rybák, Jožko Pall, Rad David Šoltys, Štefan Kassay, Ľubomír Marjak, Janko Šlinský, Marián Beniač, Rob Demka, Martin Kováčik from Shanghai, Martin Kováčik from Detva, Old Kovář, Ľubka Klieštika, Zdeňko Fabičovič, Jožko Lipták, Paľo Michalica, Vladka Levársky, Milan Šmotlák, Peter Bílka, Sam Krošlák, Arnold Fekete, Mir
Vladko Shucha moderated the discussion with representatives of the European Commission, who talked about the fact that there is a great deal of money in various packages to support innovation and research. I felt a bit like a hungry man under a bridge telling them about buffets, full of good food he'd never seen - and maybe he won't. We were also supported by close associates of Eduardo Heger and Veronica Remišová and we discussed cooperation with representatives of Amcham and SAPIE. Representatives from the Ministry of Economy did not come. Their boss said abolishing "his innovation agencies," which have never upgraded anything and spent heaps of money, is madness. But the madness is not to change anything and expect other results.
We also discussed our call to the government, which the Cabinet Office forwarded to the Ministry of Economy, and they, as always, probably threw it in the bin. Nothing new on The Economy.
We move on – we are launching projects based on Slovak eBik solutions, Agrokruh and automation in agriculture, we work on Smart solutions for cities and industry, automation and robotization in smaller enterprises, modular constructions, school of modularity and connecting innovators in regions.
In November, another group of Business University begins. I was quite pleased that former students from this school of ours continue to organize various seminars and workshops. You can join them. I already believe that The Business University will live even if I don't live. This is a wave that has the power to change the country - even without some officials up there dusting off their "strategies" of the last century. I am pleased that the team of teachers is expanding in the University of Business – with new themes coming, for example, Ľubko Klieštik, Oldo Kovář,Vlado Šucha, Martin Kováčik, Miško Poppe and others.
Here's a brochure from the festival and here's our Vráble challenge, you can spread it like an innovative virus. Here are Professor Stephen Kassay's reports from our event. I appreciate that even such an important entrepreneur and scientist came to do reports among us, as he once did a long time ago, when he was still working as an editor in Czechoslovak television. On Friday, in addition to thanking inofest, Peter Ballon also received this gift from Brussels, which pleasantly surprised.
Challenge of personalities to the Government of the Slovak Republic: Last chance for Slovakia
The ongoing processes in the economy and society may not be a crisis, but a necessary transformation that the corona crisis has accelerated. Slovakia has been oriented towards car production for a long time and has not sufficiently developed innovations based on exponential technologies, digitalization, re-localization or the circular economy. Slovakia's poor innovation capacity in this economic and social situation can result in long-term problems, from which we will be able to get out for decades. This unchling state is enhanced by the decline of education, the departure of students abroad, the poor development of domestic entrepreneurs at the expense of foreign corporations and large regional dispar differences.
The coronavirus, the change of government and the extraordinary financial resources of the European Commission are the last chance to transform Slovakia so that in the next 20 years we will be included among the innovative countries that sell knowledge to the world as products of intellectual work and innovative activity instead of manual labour results. It's time to start competing with the world through the skills of our people, not through their low wages. The resources that are coming must not be over-eaten or spend on patching up disadvantageous deals, distorting the business environment or encouraging unnecessary agencies and commission collectors.
We ask that these resources should not be allocated in the departments on the basis of the wishes of the oligarchs' political parties and friends of coalition clubs, because such a serious matter as the transformation of the country must be commented upon by experts who have experience in innovation and have shown some results in this area. Innovations are not ideas or declarations, but they materialize the results of scientific work in real applications with high added value. Therefore, they will not be created on the basis of strategic manuals in virtual innovation centres, but they need an ecosystem and entrepreneurs who can turn ideas into prototypes and prototypes into market-successful products, business models and companies. There are enough innovators in Slovakia, but they lack a suitable ecosystem, often encountering bureaucracy, corruption, lack of funds and technical assistance. For too long, able-made people have been standing outside the main flow of funds coming to Slovakia under the EU SF. The fact that they exist is evidenced by many original Slovak solutions (e.g. several successful software applications and anti-swirl tools, unique bearing reducers, cutting machine control systems, universal processors, the first 3D printed eBike, digitalization and artificial intelligence solutions, the lightest skialpinistic binding in the world, innovative and environmentally friendly agrokruh agriculture, new composites, materials based on ceramics, glass, aluminum foam, etc.) or smart city solutions and smart industry, which are developed by several Slovak companies. The ongoing pandemic best demonstrates our reliance on our own solutions and the experts we fortunately still have.
As with dealing with the corona crisis, we call for the creation of a constellation of innovation experts and experts, who, together with the representatives of the departments, will prepare the optimal innovation policy of the state so as to rapidly improve its economic competitiveness, create jobs with a high proportion of creative and mentally satisfactory work, while ensuring rationality in the energy sector with regard to a healthy environment.
Creating an innovative environment in the company will provide interesting jobs for able-bodied students in Slovakia who will not have to go abroad to see them, on the contrary many will return to their homeland.  Implicitly, this will also lead to an interest in higher value-added HEIs. Moreover, the creation of knowledge and know-how does not require nearly as much transport and energy infrastructure as an extensive increase in production, and the resources saved will therefore be able to be used to improve other areas of public life.
Signing:
Prof. Ing. Ján Košturiak, PhD., Varín
Prof. RNDr. Vladimír Šucha, DrSc., Bratislava
Ing.arch. Patrik Paul, Kinazo Design Paul + Murín Creative, Bratislava
Ing. Ľubomír Švec, Švec Group, Vráble
Ing. Miroslav Kunsch, Ipesoft, Žilina
Ing. Miloš Gregor, Gremi Klima, Žilina
RNDr. Vladimír Levársky, OMS Lighting, Senica
Ing. Roman Lisičan, Technia Slovakia, Bratislava
Mgr. Ľubomír Marjak, Lumaco, Čadca
Ing. Oldřich Kovář, Rentis, Žilina
Ing. Ján Šlinský, Agrokruh, Hrubý Šúr
Ing. Branislav Rabara, Bizzcom Bučany
Prof. PhDr. Ing. Štefan Kassay, DrSc., I.D.C. Holding, Bratislava
Ing. Jaroslav Rybák, Aston ITM, Bratislava
Ing. Peter Encinger, Enmetal, Dunajská Lužná
Ing. Matúš Kútny, Saneca, Hlohovec
Ing. Samuel Krošlák, Krošlák, Nitrianska Blatnica
Karol Styblo, Lyra Group, Nitra
Ing. Norbert Brath, Inovato, Vráble
JUDr. Denisa Vetešková, Wili Slovakia, Púchov
Ing. Martin Guttman, Tuli, Bratislava
Prof. Ing. Mária Bieliková, PhD., Bratislava
Mgr. Lucia Pašková, Curaprox, Bratislava
Ing. Martin Kováčik, PhD., Krauss Maffei, Shanghai
Mgr. Pavel Dvořák, China Road, Shanghai
Prof. Ing. František Duchoň, PhD., National Centre of Robotics, Bratislava
Mgr. Daniel Hevier, PhD., Hevi, Bratislava
Ing. Ján Uriga, Bratislava
Ing. Zoltán Demján, Bratislava
Ing. Miroslav Srogoň, Hanseatic Bratislava
Ing. Milan Šmotlák, EMST, Šaľa
Ing. Ivan Košalko, MBA, Košalko Consulting, Nitra
Ing. Jaroslav Kuliška, KROS, Žilina
Ing. Martin Kováčik, i-industry, Zvolen
Ing. Martin Morháč, Sova Digital, Bratislava
Lucia Šicková, Pixel Federation, Bratislava
Ing. Martin Trebichavský, XOIOX, Wien
Ing. Martin Basila, Sensoneo, Bratislava
Mgr. Bc. Mario Fondati, FONDATI & PARTNERS, Bratislava
Ing. Romana Machová, PhD., Beelol, Trnava
Ing. Igor Kočiš, GA Drilling, Bratislava
Dr. Ing. František Simančík, Member of the Sass Presidency, Bratislava
Ing. Marek Kyseľ, Tesla, Liptovský Hrádok
Ľubomír Klieštik, Community of Christian Entrepreneurs of Slovakia, Čadca
Ing. Jozef Gaboš, Nobel Automotive, Dolny Kubin
Ing. Juraj Habovštiak, MTS, Krivá
Ing. Milan Marko, Nemak, Žiar nad Hronom
Ing. Artur Gevorkyan, Gevorkyan, Vlkanová
Ing. Róbert Demko, Sunpower Systems, Žilina
Ing. Ján Kavoň, Infokiosk, Bratislava
Ing. Michal Meško, Martinus, Martin
Ing. Jaroslav Mervart, PhD., Chemosvit, Svit
Ing. Jaroslav Šedivý, Danfoss Power Solutions, Považská Bystrica
Ing. Pavol Čekan, PhD., MultiplexDX International, Bratislava
Mgr. Branislav Bušovský, Kempen
Ing. Branislav Poliak, Matador Industries, Dubnica
Ing. Ján Kubíček, Dema, Senica
Peter Irikovský, Exponea, Bratislava
Anton Happy, Lausanne
Ing. Jozef Omelka, Microstep MIS, Bratislava
Ing. Rudolf Korman, Energoaudit, Bratislava
Ing. Peter Ballon, Regstart, Vráble
Ing. Miloslav Karaffa, Elcom, Prešov
Ing. Soňa Ondrejková, RozhybBiznis, Žilina
Ing. Jaroslav Crkoň, TSÚ, Piestany
Ing. Branislav Horeháj, Hour, Žilina
Mgr. Juraj Málik, Business Advisor, Žilina
Ing. Peter Zálešák, Nay, Bratislava
Michal Štencl, Sygic, Bratislava
Ing. Peter Szepesi, Johns Manville, Trnava
Ing. Tomáš Gregor, PhD., AT Crystals, Žilina
Ing. Michal Gregor, PhD., LUIZA Artificial Intelligence Laboratory, Žilina
Ing. Michal Hrabovec, Anasoft Bratislava
... and adding more...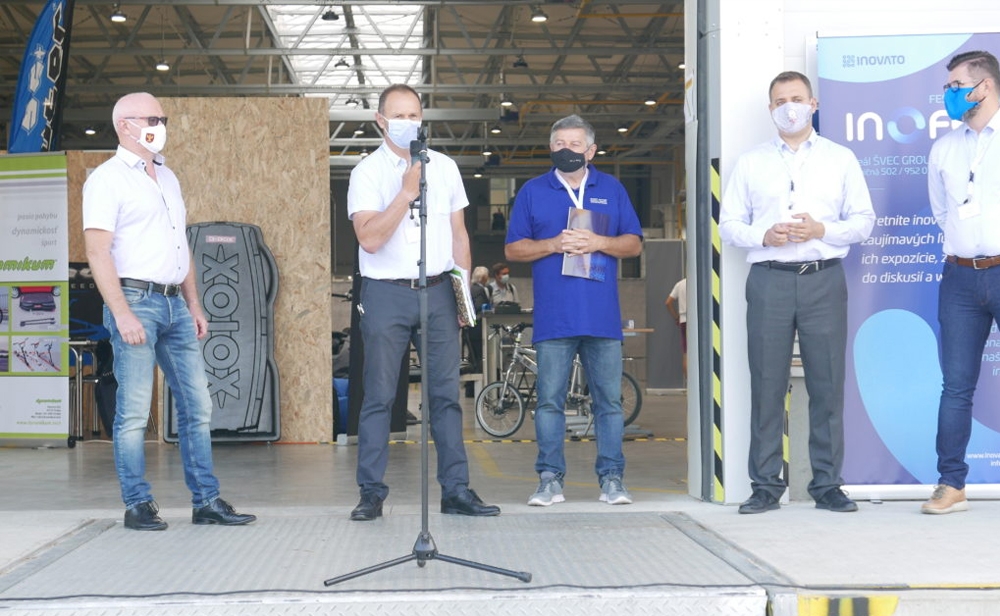 The original article can be found HERE.
19.9.2020 – Launching Baby3D

New in Slovakia as well as abroad. In cooperation with Femicare, we are launching a unique service in Slovakia. When checking 3D sonication at Femicare, thanks to 3D ultrasound, we are able to print a 3D model of your unborn puppet. Thanks to MUDr. Grochal, who will send us 3D model after your consent, we will prepare 3D data and produce a full copy of your baby. The whole process from the inspection in Femicar to the delivery of the 3D model will take place within 3-4 days. We will deliver the baby directly to you at your address.
14.9.2020 – We install full body 3D scanner
Today we have succeeded in installing a 3D scanner in our company that can do a 3D scan of the whole character or even the animal with one click. This is the first unique scanner of its kind in Slovakia.
With one click, we can scan and print your original piece. We provide this service to our customers at our branch in Zvolen. If you are interested, do not hesitate to contact us.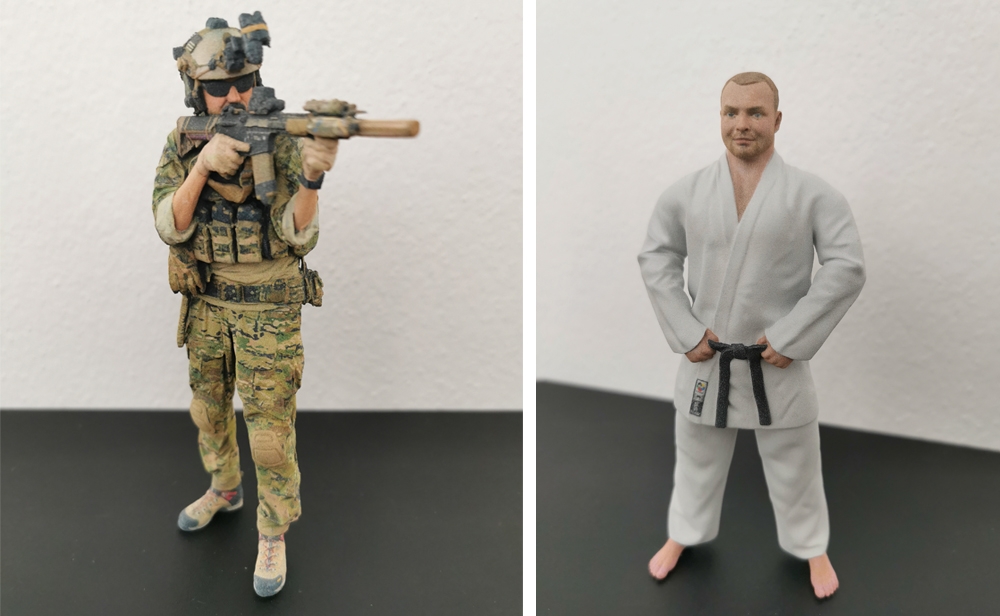 Manufacturing tolerances in 3D printing.
Each of the 3D printing technologies produces in a different way, therefore individual technologies can be produced in other production tolerances.
Production tolerances for individual technologies can be found below in this article.
In some cases, it is possible to produce even in a shorter tolerance field, but in turn it is necessary to fine-tune the process to a given type of product.
FDM / Fused Deposition Modeling – Fine Print – plast
-dimensions up to 100mm: ± 0.2 mm
-dimensions above 100mm: ± 0.15%
FDM / Fused Deposition Modeling – Thick Print – plast
-dimensions up to 100mm: ± 0.5 mm
-dimensions above 100mm: ± 0.5%

CFF / Continuous Fiber Fabrication – Plastic + Fibers
-dimensions up to 100mm: ± 0.2 mm
-dimensions above 100mm: ± 0.15%
DLP/SLA – Stereolithography – plastic – resin, wax.
-dimensions up to 100mm: ± 0.2 mm
-dimensions above 100mm: ± 0.2%
MultiJetFusion – Technical Plastic
-dimensions up to 100mm: ± 0.2 mm
-dimensions above 100mm: ± 0.2%
SLM/Selective Laser Melting – metal
-dimensions up to 100mm: ± 0.2 mm
-dimensions above 100mm: ± 0.2%
Additional information on the dimensions achieved in 3D printing
Since the production of components is produced using additive technologies, the resulting quality depends on the positioning of the part and given dimensions.
Therefore, for each part we individually design production technology and propose to you one where we achieve the highest quality so that you can fit into your budget.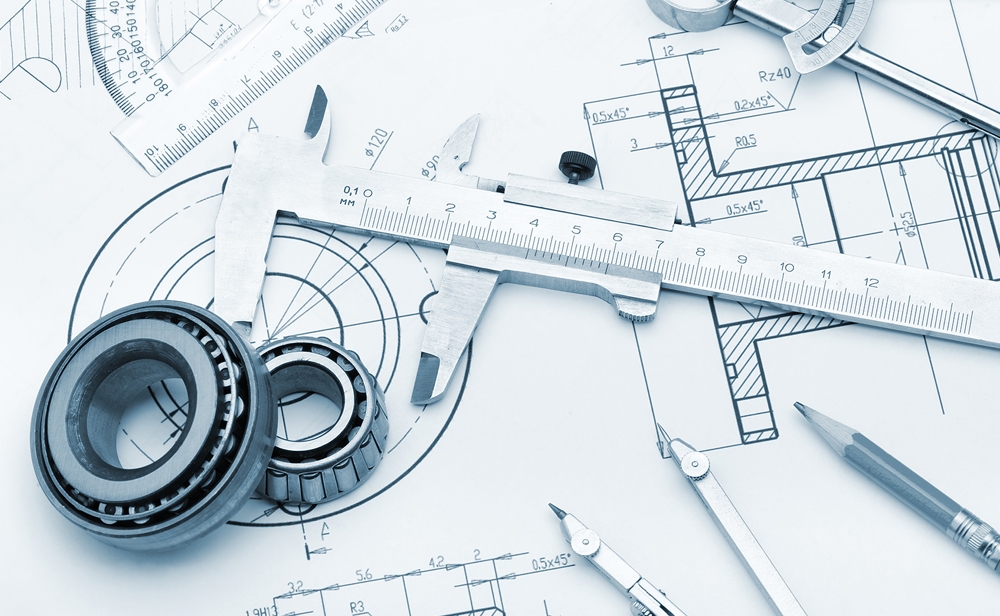 We are constantly ins upoving and that's why we're growing. Us and our customers.
Years spent managing component development in the engineering industry led Martin Kováčik to set up his own company, which brings innovation products to the development. Thanks to innovations and modern technologies, it can reduce the time of product development and delivery of products exactly according to customer requirements to a minimum.
Mr. Kováčik, let's introduce your company and its history at the beginning.
The company i2-industrial innovations, s.r.o. was founded three years ago. During its operation, 3 divisions were created: Formičkáreň.sk, Kapak design and i-industry. Each division is focused on a different type of customer but has one thing in common, technology. The strongest is 3D printing.
Under the brand Formičkáreň we supply quality confectionery equipment according to our own designs to most professional confectioners in Slovakia. Kapak design produces both residential and exterior accessories and the i-industry division focuses on development and production especially for the engineering and automotive industries.
Production using 3D printers may seem slow and unaffordable. What's your opinion?
Yes, for many, 3D printing seems very slow and costly, but it is efficient and economical for our customers. It is true that 3D printing cannot compete with technologies such as plastic injection. On the other hand, we can produce efficiently on more than fifty 3D printers and smaller series in hundreds of pieces per hour. And if larger series are needed, we provide production on our injection moulding plants.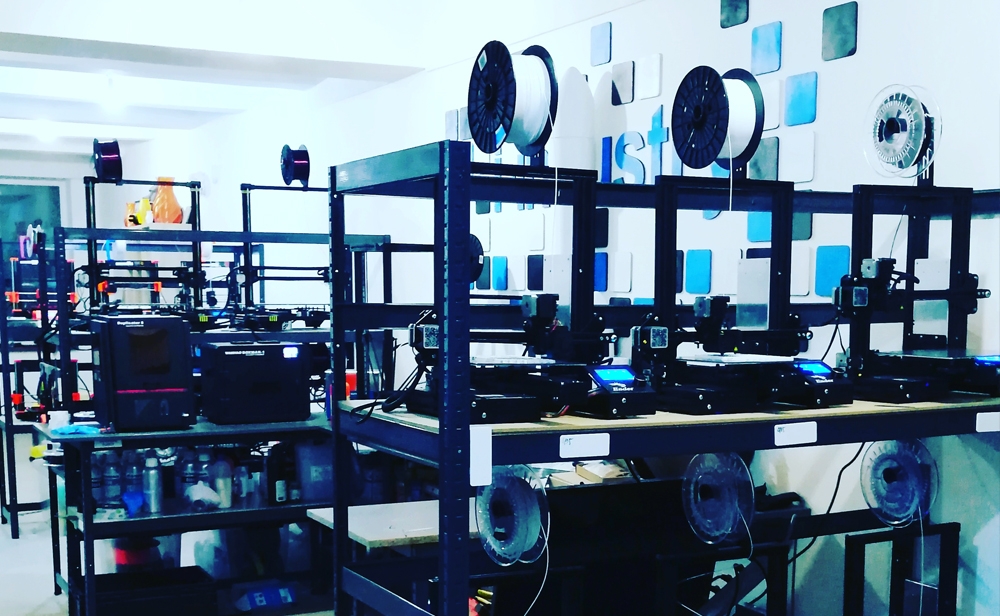 When is the customer looking for you?
Most often we are contacted by customers who have a particular problem. When they need to make a prototype, spare part for the machine or ensure the production of plastic parts in the event of supply shortfalls from the current supplier. We also regularly produce spare parts for veterans that can no longer be found.
Our customers are also dentists, designers, students, advertising and wedding agencies, distribution companies as well as creatives who are looking for solutions. To provide solutions precisely according to customer needs, we use various technologies such as 3D scanning, 3D printing, laser cutting, vacuum forming, but mainly our many years of experience in product development and production. We can ensure the whole process from product development, testing, production security, packaging and, if necessary, logistics and distribution.
Have you experienced changes in customer behaviour in recent months? Have you been affected by the coronavirus limp?
The decline in orders occurred immediately in all our divisions. We had to look for new possibilities and fight for survival. 3D printing helped us in this. Thanks to it, we were able to quickly transform production and develop and produce protective shields for medics in large quantities. Seven days have passed from prototyping to launching small-scale production on 3D printers to large-scale production on injection moulding plants. Thanks to our rapid response, we have been able to provide protective equipment to everyone who needed them and are currently distributed throughout Europe. We have been approached by companies that have cut off the ban on imports from China or America from the supply of goods and components. For one of them, for example, we develop automatic disinfection dispensers, which were necessary during this period. We are working with another customer to develop and manufacture protective masks.
What awaits you in the near future?
We plan further investments in new technologies, work on a project of protective equipment and look for other opportunities for cooperation. If you have an interesting idea that you want to implement or consult, we will be glad if you turn to us.
Article published in the journal Engineering 7-8/2020.
Where things take on a different dimension
We have only recently come across i-industry. At the very end of 2019, when we presented a case study on rebranding of O.M.C. Invest SK in the section Creative Impulses. It was the i-industry that was the key to cracking the client's bold request for personalized wine tubes. What was it about and how did i-industry manage what no one else could do because of the short time or lack of options? Read the following lines.
I-industry is a small but significant company based on the outskirts of Zvolen. The entrance to the plant may be a little confusing to the visitor, as information about two worlds, two establishments – confectionery needs and 3D printing – is "beating" on the entrance door. What at first glance will create confusion in the visitor will then be transformed into a clearly understandable intention and, in the words of one of the company's executives, into a complete understanding.
We have entered a world where marzipan smells, all around there are molds and molds for honeydew, cake taps and various decorative items that make confectionery products masterpieces. Behind the first door, however, we find a completely different world, a world industrial, with shelves full of buzzing devices that patiently produce what no one else can.
3D printing – future or utopia?
Our company has three segments – confectionery, design and mechanical engineering, but they are perfectly connected thanks to innovative 3D printing technology," martin Kováčik, one of the three executives of i-industry, who began writing his history less than three years ago, begins the interview. It was during this period that a bold idea about using 3D printing as a suitable tool to fill the "hole" in the market was shoming the owners in their head. The purchase of the first machine, as is already the case with innovative ideas, was accompanied by great distrust and scepticism on the part of the surroundings. "At that time, my colleagues and I left the engineering company where we worked in the product development department. We had our vision to continue the machine, but in its more dynamic design and, of course, to produce unique confectionery needs. We have tried to fulfil a seemingly disjoined vision, even though many have talked us out of it. After purchasing the first 3D printer, we were mostly met with negative opinions, but we nevertheless found a segment that ensured the development not only of 3D printing, but also of the aforementioned sale of confectionery supplies," adds Kováčik.
Installing a small 3D printer is no science, but finding the application of its final products seemed a little more challenging at first. Therefore, at i-industry, they decided to start designing their own molds for honeydeeds and to translate these designs into real 3D models. After the first positive reactions on social media, pastry chefs started arriving with their own designs or only with requirements for the design of plastic devices for confectionery production. Thanks to the gradual gain of experience and positive feedback in the segment of confectionery aids, the owners began to gradually look for more demanding, design and technical pieces, the design and production of which required greater precision. In addition to being able to translate the idea into reality, the clever designer can scan any object up to 4 meters in size thanks to a 3D scanner and then print it.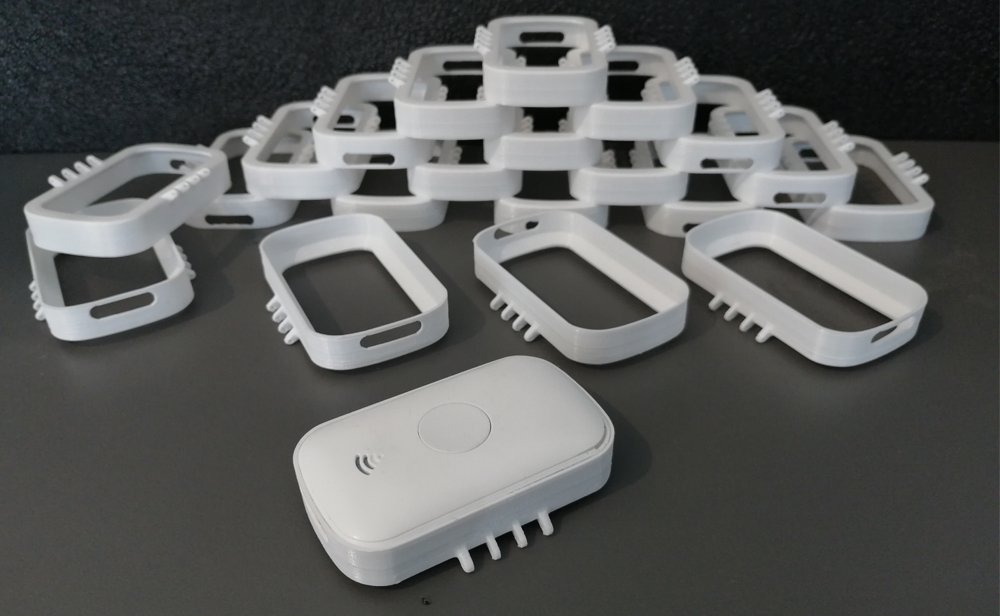 At the same time, the company became able to supply parts to the automotive, engineering and health sectors from a company that started to produce small moulds for the cut-out of pastries. Especially tools for dentists – such as toothbrushs and moulds for tooth castings. As Martin Kováčik argues from experience, 3D printing in Slovakia is still "in its infancy", in countries such as Germany or the far USA, 3D printing is already gradually beginning to be promoted not only in deeper areas of health, but also in the production of building materials. Not long ago, a residential house was printed using this technology. In addition, the question of whether the new 3D bio-printer will be able to produce tissues suitable for transplantation into the human body also hangs in the air – which would be a huge benefit in this day and age of organ and tissue donor shortages. However, all indications are that this idea is not completely unrealistic in the future.
But back on the ground. So what are the biggest benefits of 3D printing at the time? Martin Kováčik replies: "Thanks to the fact that we have previously worked at a development company, we know that with today's technologies it takes maybe 3-4 months for the proposed component to truly see the light of day. 3D printing has the advantage that if a customer sends us a component design that they need to produce, they can have it at home the next day. Of course, it is unprofitable by the power to compete with companies using plastic injection technology and print hundreds of thousands of the same components on a 3D printer, but if a company is to wait 3 months for them, in our full operation the customer can have them ready in two weeks. In this respect, sometimes the aspect of time is priceless. Fast time requires quick action."
Since i-industry products can be made of two types of material – environmentally friendly, biodegradable plastics and technical plastics, the portfolio of applications is also wide. Technical applications intended for industry are printed primarily with technical plastics that are more durable. On the contrary, the needs for confectioners who come into contact with food are made of organic materials. The ecological aspect of this production is also highlighted by the fact that it is a waste-free technology which, in addition to the final product, does not produce any undesirable component doomed to disposal.
The most common question – is it expensive?
In 3D printing, it is necessary to disprove the two myths that have accompanied this technology since its inception. Long waiting times and financial unavailability. "Given that a company owns eighteen 3D printers like us, the process of making several hundred plastic components can be a matter of hours. The second side of the coin is the fact that manufactured products are slightly more expensive than in ordinary sales. Let's also take such a personalized honeydiber forme. In normal trade, its price is about 50 cents, while in our country its price is maybe 4 euros. However, it should not be forgotten about the aspect of personalization and the possibility of its own unique design, which will also make the work of a pastry chef something unique. The price of the printed design takes into account not only the uniqueness of the technology used, but also the work of the designer, who often has to transfer only the theoretical idea to paper," says Martin Kováčik.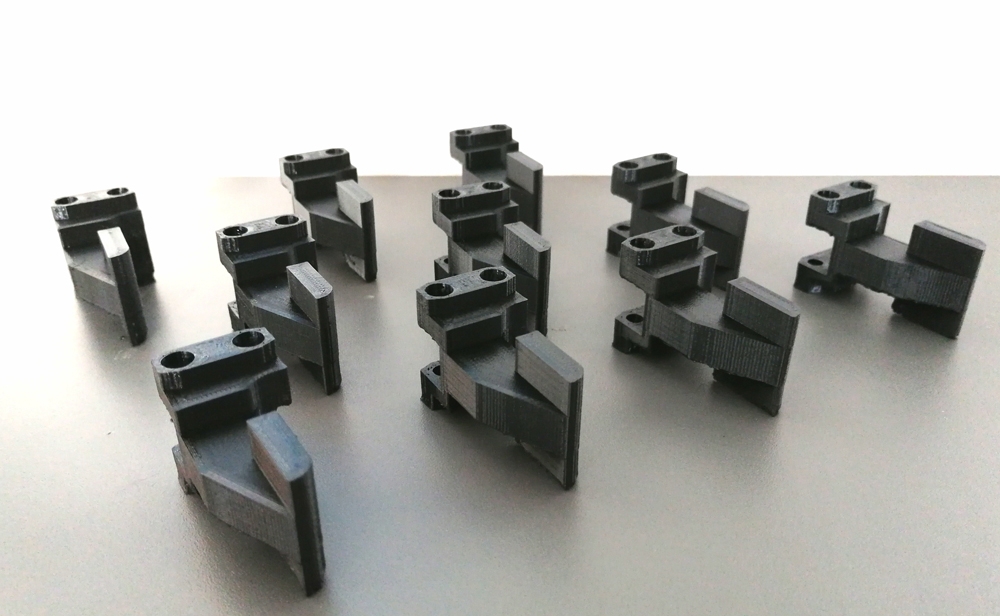 However, the moulds in particular enjoy huge popularity, which can also be seen on the www.formickaren.sk website and on the fan page Formičkáreň on the social network. Here is a tribe of regular customers creating ideas for ever new and new mold designs, thanks to which it is possible to constantly develop the offered portfolio.
Three times the awareness
The uniqueness of the technology and constant exploration of its possibilities attracts students of various schools who not only come to see the production, but are often also interested in printing their own proposed models. What applies to the need for education in other sectors is doubly true in this sector. 3D printing is a new area of non-traditional polygraphy, the possibilities of which are not known many times even by the owners of the technology themselves. "Our customers are not only engineering companies and creative pastry chefs, our customer is also the one whose handle on the ticks broke, the clip on the snowboard binding, or the cover on the apartment bell. There are infinitely many possibilities of use and I guess we are only halfway through their discovery," adds Martin Kováčik with a smile.
i-industry is not the only one of its kind in Slovakia, but it is guaranteed to be the only one with such a large number of devices and thus the volume of products produced. "In confectionery, people want to expand their creativity, they want to solve the problem with the machine. We are not ashamed that we are often the last resort of our clients. We can help them especially when others are clueless, that's our advantage," concludes Martin Kováčik in an interview.
Marianna Cabalová's experience in product development and production exactly according to customer requirements:
The idea and design design of tubes was created in cooperation with the consulting company IMH and creative studio AVart in Trnava. This proposal carried the client's request to create a "wrapper" for a Christmas present, as a thank you to clients and partners at the end of the calendar year. The enter was unambiguous. We need a tube-shaped packaging that elegantly hides a bottle of fine wine, a wine stopper, a pen and a company yearbook, with each of the listed items having its exact destination in the tube. Precisely because this type of packaging had to meet special requirements, it was not convenient to use a commonly available type of tube in stores. Therefore, a clear choice fell on 3D printing and the company that has the greatest experience with it in Slovakia. The enthusiasm for the result did not wait long and, like the satisfied client – O.M.C. Invest SK, he was also enthusiastic about the promoter. Martin Kováčik adds: "Since it is a hollow object, the process of creation was longer than is usual with this volume of material used. In this particular case, it was about a 20-hour process of printing one tube. However, thanks to more technologies, we were able to afford to print several tubes at the same time, so despite the pre-Christmas time stress, we managed to print the required amount of hikes on time."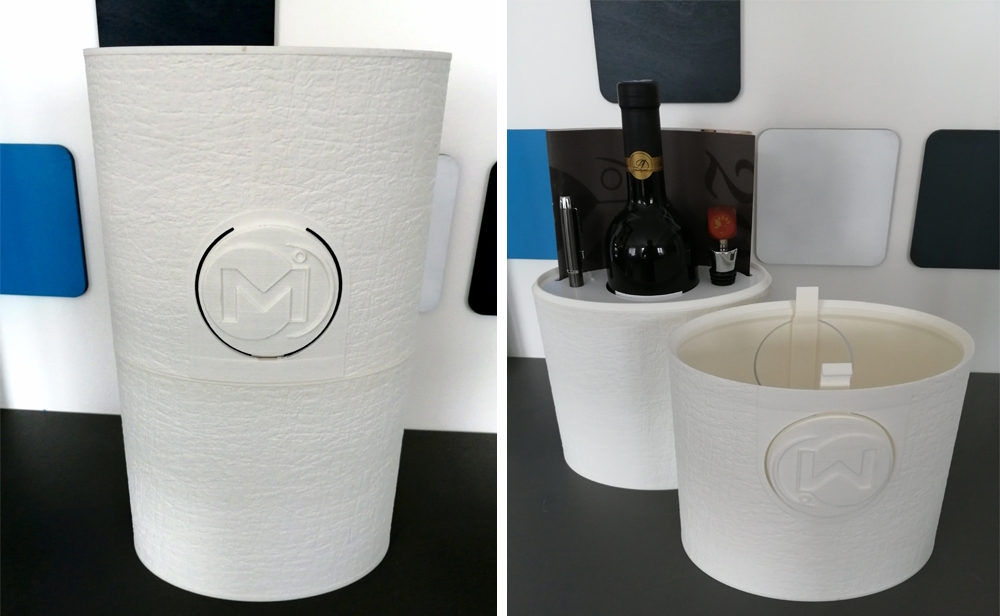 Article published in print progress magazine No.1, January - February 2020.
There's no need to treat everyone as a competitor.
A few months ago, in our regular section Creative Impulses in PrintProgres magazine, we strayed into a sphere in which the press is beginning to take on a very unusual dimension. 3D dimension. We visited an i-industry company in Zvolen, which showed us great innovator things in small spaces.
At the time of the current crisis, 3D printing in Slovakia became even more important and became an indispensable part of the production process of devices for medics and people "on the front line". Martin Kováčik, founder of i-industry, told us about what has changed in the last half-year in the company and how the corona crisis itself has changed.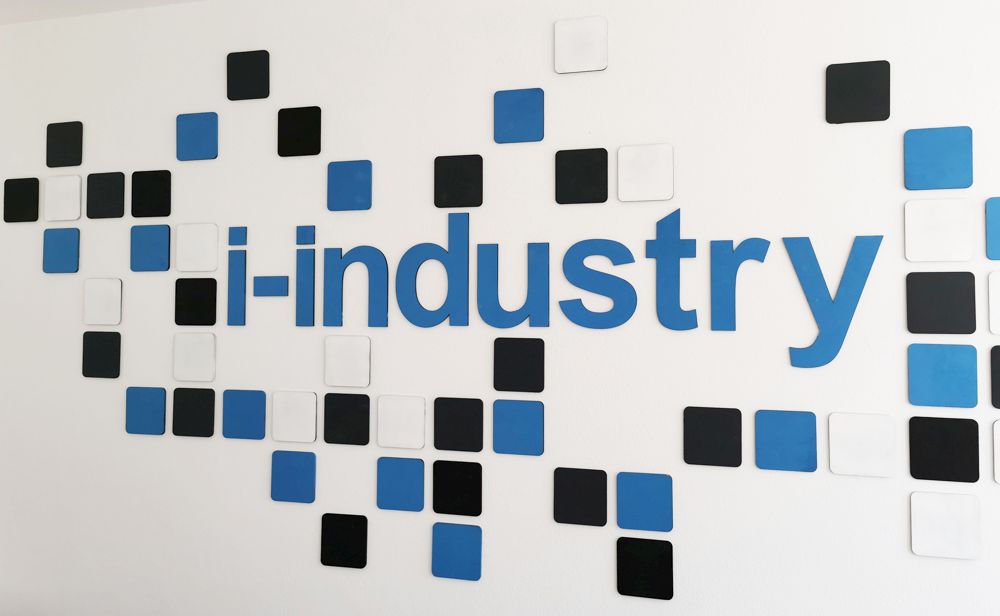 WE START OUR CONVERSATION SO GENERALLY – WHY 3D PRINTING? WHAT IS THE DECISION TO DEAL WITH THIS SECTOR BALANCING BETWEEN MECHANICAL ENGINEERING AND PRINTING?
The decision relates to a previous company in which I worked together with my current associates. There we worked on the development of car parts, spare parts for hand tools and even then we realized that the development itself can be an endlessly lengthy affair in classical procedures. When a customer came to us and needed to develop a new part or adapt the technology to their own needs, it took months and sometimes years to design the prototype, try, fine-tune and fit into everyday life. All these long-lasting steps eliminated 3D printing to a minimum. Now we can produce a spare part or part as imagined literally until the next day. The customer can "get", test the product the next day and, if necessary, we can provide him with serial production thanks to the higher number of our 3D printers. It is a paradox, because for many, 3D printing may seem like a very slow process – which, on the one hand, I recognise, but on a global scale it is unrivalled in its flexibility.
SO A FEW YEARS AGO, YOU LEFT YOUR PREVIOUS JOB AND GOT INTO BUSINESS. WHAT MOTIVATES A YOUNG PERSON LIKE YOU TO LEAVE A STABLE POSITION AS AN ENGINEERING DEVELOPER AND GO INTO BUSINESS UNCERTAINTY AND EVEN MORE SO IN A SEGMENT THAT WAS IN SLOVAKIA, CAN YOU SAY IN DIAPERS?
Simply a desire for change. Personally, I've always been tempted to do things differently than I used to. Abroad, 3D printing was very popular during this period, almost at all in Slovakia and I wanted to try it. The beginnings were very difficult, I listened to a lot of sceptical opinions, but they did not deter me for good, and that is why we are now where we are. New customers are coming in and the more we do it, the more potential I see in the industry.
WHAT HAS CHANGED FOR YOU SINCE OUR LAST VISIT? IF I REMEMBER CORRECTLY, YOU HAD 18 PIECES OF 3D PRINTERS AT THE TIME.
Since then, we have almost tripled our machine park – we have 50 printers while writing this article and we have also purchased faster technologies designed for larger series such as injection moulding machines. We can supply prototype, larger and smaller series of products. Thanks to the injection moulding, we are already able to make series in thousands of pieces, so we managed to diversify our production process in a few months.
IT MAY BE A SOMEWHAT INAPPROPRIATE FORMULATION, BUT ALL THE MORE APT: IT SEEMS THAT THE LAST FEW UNFORTUNATE MONTHS MARKED BY THE COVID-19 PANDEMIC MAY HAVE HELPED YOU. IS THAT RIGHT?
I have to admit, yes. In the last few months, we have multiplied the volume of production, acquired new contacts, launched new projects. We have gained new experience in the production of products with which we have never had any experience at all. Examples are protective shields, but also, for example, automatic disinfection dispensers and respirators, which we currently include in production for one of our customers.
However, in addition to the production itself, we try to offer the customer the maximum he can get under one roof. It is therefore no longer only about production as such, but also about the design, development of a prototype, the production of the product and its subsequent packaging and the provision of the entire sales process, including imports. Thanks to this idea, we have managed to involve more people in the process and our successful period, we are cooperating with several companies and we are an example of the need not to look for a reason why something cannot be done, but a way of doing so.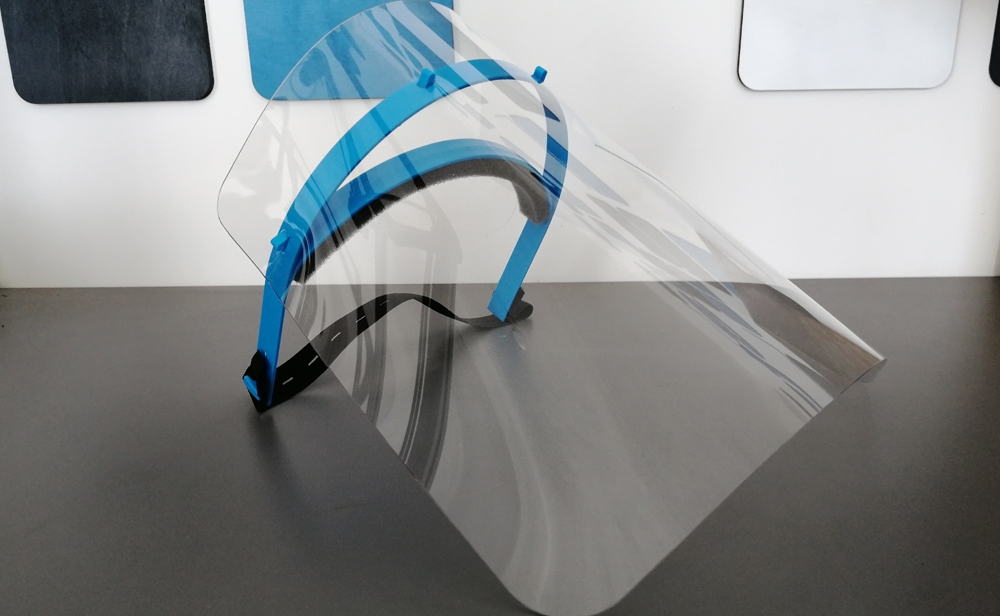 CAN YOU EVEN SAY WHAT THE MOSTNIKÁTAL PROJECT YOU HAVE CARRIED OUT WITH YOU?
Each is unique and each in its own way. If I had stabbed one, I would have wronged the others. When it comes to development, it is always unique, and when it comes to development, it is an important thing that prevents the customer from continuing the established activity – whether it is a broken cog into a household housewife blender or a part in a multi-thousand machine. All, even seemingly unnecessary, things have an irreplaceable meaning and justification for someone. If someone has an expensive machine that is hampering the production process because of a broken and unassible part, we can help them as best we can. From experience, I can say that this part has a real value of maybe 30 euros in the final, but for the customer the price of gold. This is what I enjoy about my work. Seemingly irreplaceable things can only insure added value by being able to re-produce them.
Recently, we have experienced a situation of pandemic, due to which the ban on importing goods from abroad has been banned, and many Slovak companies have thus been cut off from their stable foreign suppliers of parts and components. It was only thanks to this awkward situation that many realised how important it is to support domestic producers and sought us out, even though they were still accustomed to cheap goods from China, which, let us say openly, not a single Slovak company can compete with.

YOU ARE A COMPANY THAT AT ITS BEGINNING PRODUCED AND UNTIL NOW PRODUCES COMPLETELY DIFFERENT PRODUCTS, SUCH AS ONLY COMPONENTS AND PRODUCTION COMPONENTS. THEY WERE CONFECTIONERY FORMS. IF YOU WERE TO DIVIDE YOUR PRODUCTION, HOW MUCH DOES THE PRODUCTION FOR THE FORMICHATURE MAKE UP AND HOW MUCH FOR ENGINEERING USE?
A lot of small and personalized things go through the Formichae. When I look at the number of orders, this confectionery segment definitely wins. However, when I look at the volume of finances, the machine and design dominate. The formission is unique in that we do personalized things that make people happy. They are bespoke products and many companies have already been inspired by this and copied it from us. We have now purchased engineering technology, thanks to which we will expand the confectionery portfolio with a product for which many companies and the world are still not specialised – they will be forms for chocolates and pralines. Let me put it that way, we're going down our line where we've never watched the competition and followed it. We followed common sense and it seems to have worked.
HAVE YOU MANAGED TO GET YOUR CUSTOMERS THROUGH RECOMMENDATIONS THAT ARE ALREADY EXISTING, OR HAS IT TAKEN LONGER TO GET CUSTOMERS' ATTENTION AND HAVE YOU HAD TO INVEST IN PROMOTION?
The first year it was about educating and educating customers, investing in advertising, but seeing it pay off. That's why we continued to do so. Last year we didn't invest a penny in advertising and we saw a 100% increase and an enormous number of positive ratings on the social network. Of course, there can always be some unpleasant unpredictable situation where the product can come to the customer damaged, but we always try to find a way to maximum customer satisfaction.
THE PANDEMIC AND THE CURRENT SITUATION HAVE AFFECTED DEMAND FOR PRODUCTS, BUT ALSO THE MARKET AS SUCH. DO YOU THINK THE IMPACT OF THE PANDEMIC ON YOUR BUSINESS IS PERMANENT? HAS THE CURRENT SITUATION CHANGED CUSTOMER EXPECTATIONS FROM YOUR POINT OF VIEW?
In my opinion, customer expectations have not changed. Customers don't come to us in style – there's a crisis, give it to us cheaper. However, the market situation will not be stable for a long time to come, demand will fluctuate, which is already happening to us. One day we thought no order would come and in the evening of the same day came the order for 10,000 protective shields. Just as our segment fluctuates, other segments are likely to fluctuate depending on what happens in the world. The bans and orders issued by national governments have an extreme impact on us. When it happened that they opened hairdressers with the condition of wearing protective shields, we launched an advertisement and from 0 orders we rose to 100 per hour. One has to be adaptable and be able to react quickly. If entrepreneurs rely only on established practices and wait for the situation to stabilise or before someone helps them, it may be too late for them.
The world has changed and will never be the same again as before this crisis. The approach to the market has definitely changed and one of the most important features of the manager will be creativity, flexibility and speed of response.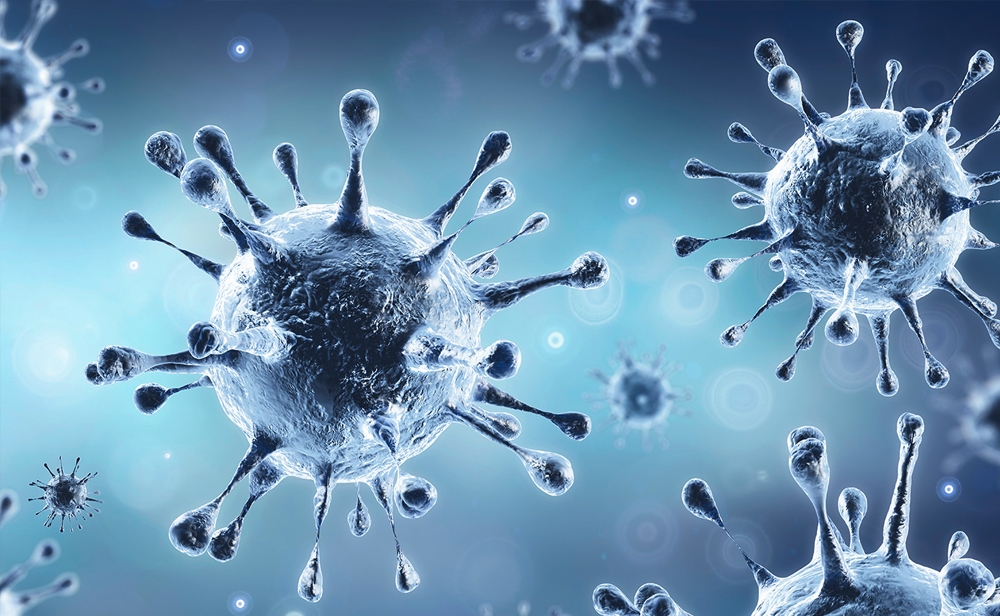 HOW CAN THE 3D PRINTING SEGMENT HELP COMPANIES THAT CAN'T RESPOND SO FLEXIBLY TO CHANGE? LIKE PRINTERS?
For example, 3D printing can help printers, but also other manufacturing companies, if a component or component of several thousand machines breaks down, which we can make them tailored to them without unnecessary waiting or costly replacement of the whole device. That's the one, I'd say, the primary service of 3D printers to classic printers.
Secondary weeds in cooperation with the production process. We currently have an agreed order for the production of automated disinfection equipment, for which we will need to print instructions, leaflets, boxes, bags, etc. Here I see room for cooperation with other companies and joint success. We recently teamed up with a company that had been cutting boxes until now, but together we found space and the same company was cutting out plastic shields for us so that we wouldn't have to cut them laboriously and lengthyly with a laser. Neither of us ever took that possibility into account, and let's see, all of a sudden it worked. I think this is the best way to work with classic printers. I do not want to wait, but actively look for opportunities for cooperation.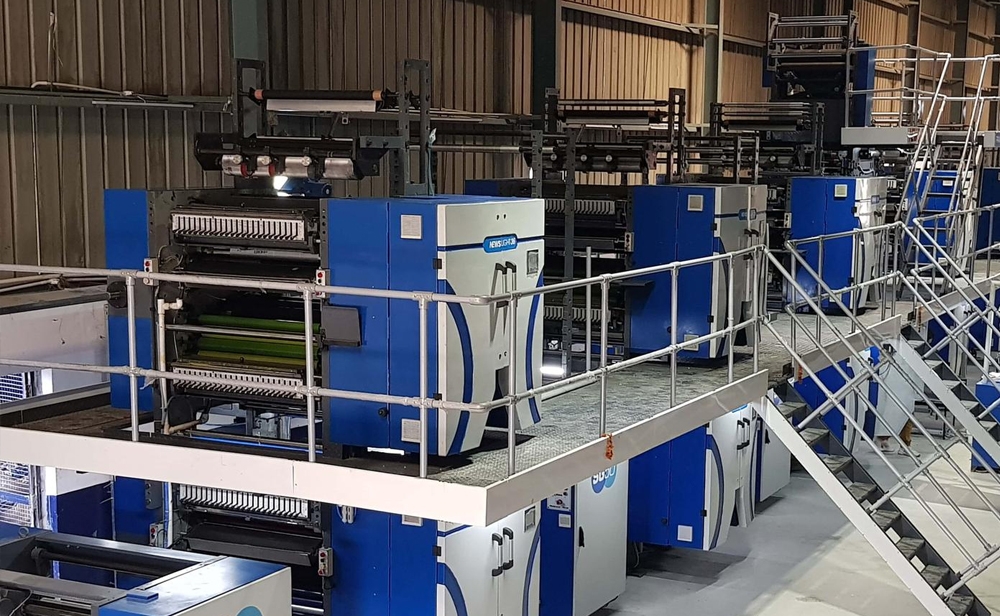 SO DO YOU THINK THERE IS A FUTURE FOR BUSINESS ENTITIES IN SPECIALIZED AND ALLIANCES OR VICE VERSA IN THE COMPLEXITY OF SOLUTIONS UNDER ONE ROOF?
It is important for us that over time we have all the production technologies with us, so that we can produce to the customer what he needs. But then we want to connect with other companies that have similar innovative minds to us and look for future solutions together with them.
If companies are open to each other, if their representatives do not just have the need to compete at all costs, there is a possibility of growth for both sides. Slovakia is small, but if a few good companies come together, it can be fine. There's no need to treat everyone as a competitor. We've teamed up with two big companies, opposite which we're a tiny fish. They had technology for millions of euros and couldn't use it, but when we put our heads together, we found penetration and started. There is paranoia in our market that everyone wants to steal the idea from the other, which is not to say that it cannot happen, but after a few conversations we can probably find out who to trust and who not to cooperate with.
DO YOU THINK THERE IS ROOM IN SLOVAKIA OR CENTRAL EUROPE TO POPULARIZE 3D PRINTING? WHAT SHOULD WE DO TO POPULARISE THIS TECHNOLOGY IN FRONT OF MANAGERS AND THE LAY PUBLIC?
This is not only about 3D printing, but also about popularizing other industries. In my opinion, the only way is to educate the public through education and conferences. We collaborated at one conference where experts presenting 3D printing capabilities came to see and visitors couldn't help wondering what all this kind of production was capable of. It is precisely such events that are for people who, if they have intuitive thinking, are able to find solutions and ways in which the technology can help them in business. And even if they don't come up with a specific idea, at least we'll get to know them, so they'll be open to the opportunity to reach out to us and come up with that idea for them.
DO YOU SEE THE PRO-EXPORT POTENTIAL IN YOUR COMPANY?
I can say that some things are already leaving us abroad, but the more you go west, the higher you will find printers. America is already pushing engines by default, NASA is also known for its 3D technologies. Few people also know that Boeing already uses 3D printing to produce lightweight aircraft products, and I have not yet mentioned the medical and dental industries – prostheses, braces. Thanks to the fact that I see all these technological possibilities, I also see a huge space to assert myself in our and the surrounding markets.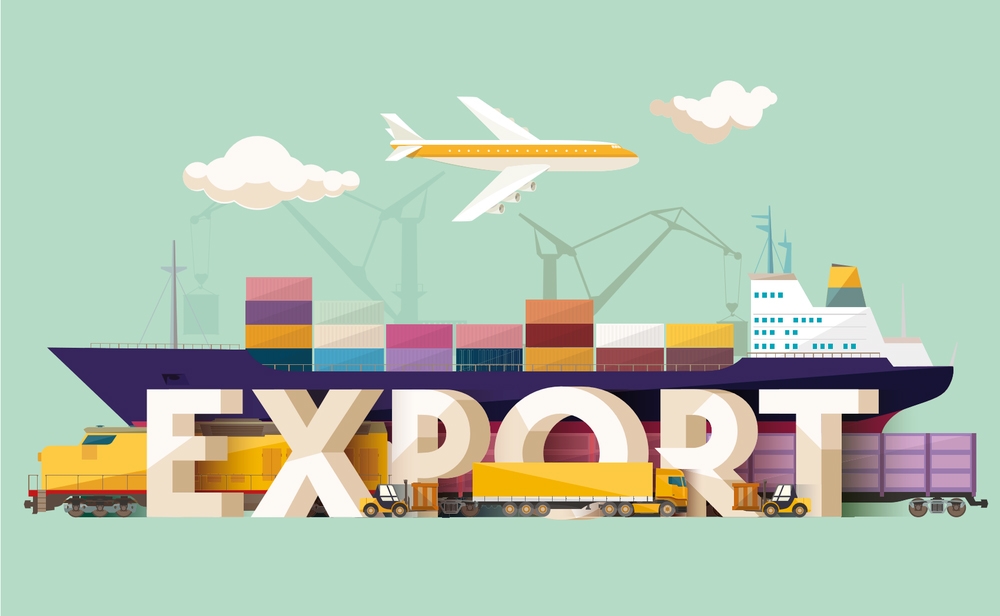 WHAT CHALLENGES DO YOU EXPECT IN YOUR PROFESSIONAL CAREER IN THE NEAR FUTURE? WHERE WOULD YOU LIKE TO MOVE THE COMPANY?
We definitely want to improve in the speed of product development and delivery. This was crucial before, during and after the pandemic. We would like to expand the technology park with additional machines so that we do not have to rely solely on external suppliers in everything, because nowadays it is especially difficult to find a stable partner in the market who can work quickly and efficiently. In the area of production, we want to take several paths and not specialise in just one type of product. If one of the roads starts to stagnate, the other can start to grow and vice versa.
DO YOU THINK 3D PRINTING WILL BECOME A STANDARD STUDY PROGRAMME?

I'm sure you do. Even in some universities, they have understood that moving in this direction is not at all detrimental to the matter. The first advantage is that the initial investment in technology on which you can try new things is not difficult. A 3D printer can be bought for as much as 100 euros, and although it is not literally plug-and-play technology, it is possible to educate and discover its possibilities.
CAN NEW PROFESSIONS ARISE FROM THE DEVELOPMENT OF 3D PRINTING?
I think so. For example, a 3D printing technologist. For example, the Slovak University of Technology develops materials for 3D printing from recyclates, which means that not much plastic is added to these materials, thus eliminating waste.
SLOVAKIA SEEMS TO BE VERY INNOVATIVE AND FLEXIBLE – JUDGING BY THE ACTIONS OF SOME COMPANIES AND INDIVIDUALS DURING THE CORONA CRISIS, WHEN MANY STARTED SEWING THEIR MASKS ON THEIR OWN, THE OWNERS OF 3D PRINTERS STARTED PRINTING PROTECTIVE SHIELDS AND SO ON. DO YOU THINK SLOVAKIA HAS INNOVATION POTENTIAL?
The potential would be, but its development is hampered many times by bureaucracy. We are also trying to deal with some projects through EU funds, but we have not yet found those 'time-appropriate', it is difficult to choose so that we have the funds at our disposal as soon as possible. We cannot deal with funds whose perspective is 2 years, because in this time the aspect of product and technology innovation will be lost. Unfortunately, this is happening in Slovakia and discourages many from using State aid, which logically leads to a much more difficult realisation of good ideas.
Yes, Slovaks, like the Czechs, are a very clever nation, which has been shown especially in recent months. Everyone who had a 3D printer started making shields, mask holders, for disinfection... We have come together via social networks without any rules and regardless of whether we are competitive businesses or not. And by the time the state recovered what the residents needed, they all had it – from us, from companies or from individuals. A nice example is the protective shields, for which we have reached serial production in 7 days. We have contacted several companies and established cooperation with those who have said that they can get involved in the shortest possible time.
Article published in the journal Print Progresč.3, May-June 2020
During the corona crisis, they came up with an idea that protects.
In Slovakia, we have many smart people who can insete even in more difficult situations. A great example is the company I-Industry based in Zvolen, which has been on the market for 3 years and is dedicated to 3D printing. During the corona crisis, she came up with an idea that helped and still helps many people to protect their health. Protective shields prevent the virus from penetrate the face, thus effectively preventing infection.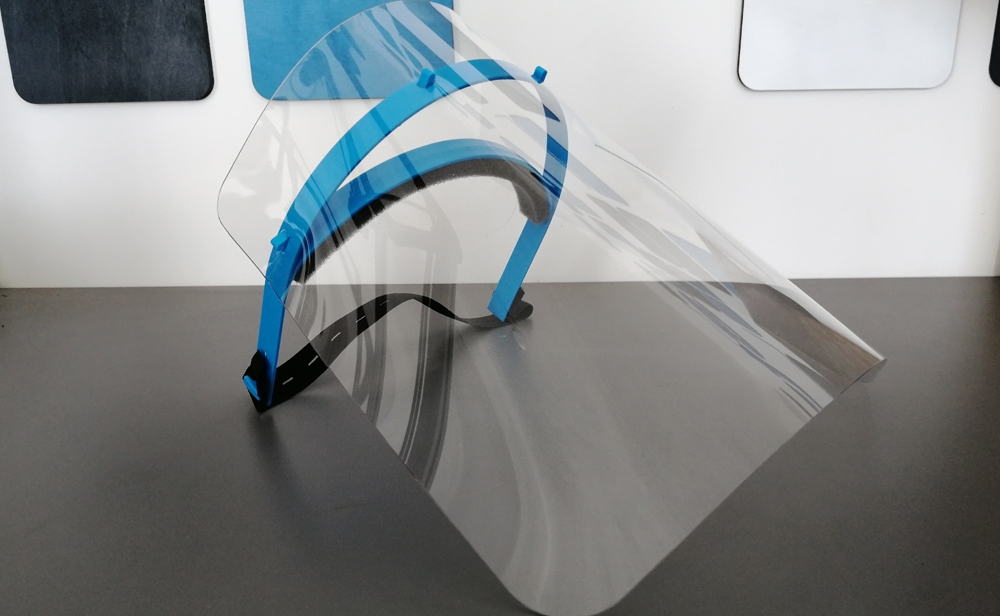 "The company first started producing shields in a 3D printer, but in this way it could produce no more than 500 people a day. However, the demand was much greater, and getting to the protective shields was difficult especially for individuals. Thanks to great interest, they gradually started the production of protective shields on the injection moulding plants. From design to serial production by injection, only 5 days took place. Thanks to this technology, it is possible to produce up to 15,000 parts of protective shields per day," explained Martin Kováčik.
So you don't have to go far behind the protective shields, nor do you have to look for them on Aliexpress. They are also produced in Slovakia and are available to everyone.
Shields are available for both individuals and hospitals or companies. People can make phone calls, get advice on what would be appropriate for them. The shield fits well, the size is adjustable and thanks to the softening foam it provides comfort even with prolonged wear.
As various services gradually open, shields are very well able to protect hairdressers and workers in manicures, pedicures and many other people who come into immediate contact with the client.
It can be ordered via the www.ochrannystit.skwebsite , by phone on 0911 124 636, or via Facebook – OchrannýŠtít.sk. You can also come to Zvolen in person after the shield, or the company can send them on delivery by courier.
Article published on noviny.mojeslovensko.sk 5.5.2020, written by Lucia Baníková

Our customers
Over the course of 3 years, thanks to our technologies, we have gained a lot of experience, friendships and new customers.
We believe that soon you will belong to our other satisfied customers.
Are you interested in our company? Write to us.
We will be happy to provide you with our many years of experience and together we will find the most economical and high-quality production of your product.