Based on our many years of experience in 3D printing, we have decided to help our customers and help you with the implementation of 3D printing.

Therefore, in the new year 2023, we are launching the sale of 3D printers, scanners, accessories and consumables of brands that we have tested and verified in our company for many years.
Brands such as Formlabs, Builder, Zeiss, and Gom can be found in our portfolio.
In addition to selling these brands, we continue to provide advice on the implementation of 3D printers and scanners in your companies and operations.
All the equipment we offer has been tested in our operation in tens to hundreds of hours of work and that is why, based on our own experience, we are able to find the most optimal solution for you. Our goal is not to sell the machine, but to sell you the technology that will bring you what you need.
If you are planning larger investments using funds from European funds, we will be happy to recommend our partners to develop projects.
Extremely high-quality printers of extreme dimensions: Builder Extreme
Profesional 3D printers of FDM technology on large objects. You can also personally see the highest printer Builder Extreme 2000 at our operation in Zvolen. It is in operation and has been crammed for more than 150 days.
Builder Extreme 1000 PRO – price from

€

20.995,00 excl. VAT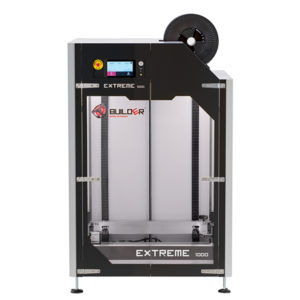 Builder Extreme 1000 PRO is the optimal solution between small desktop FDM printers and large industrial machines.
With a print volume of 700x700x820 mm (XYZ), it is the perfect large-scale 3D printer for printing full-size prototypes, molds, tools or props. Features such as a 7-inch touch screen, fiber detection, a UPS system that resumes a print job after a power outage make it a fully equipped 3D printer.
The included accessory kit includes 0.4, 0.8 and 1.2mm nozzles and tools needed for maintenance.
Builder Extreme 1500 PRO – price from

€

24.995.00 excl. VAT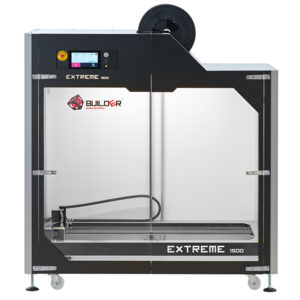 The Builder Extreme 1500 PRO has a unique size for a large format 3D printer, but its dimensions make it the perfect machine for any office environment.
The print volume of the Extreme 1500 PRO is 1100x500x820 mm (XYZ). Built-in transport wheels make it easy to move the printer to another department or maneuver it to the smallest office corners. Extreme 1500 PRO operation is hassle-free thanks to features such as a 7-inch touchscreen, fiber detection, and a UPS system that resumes a print job after a power outage.
Builder Extreme 1500 PRO HC – price from 

€

49.995.00 excl. VAT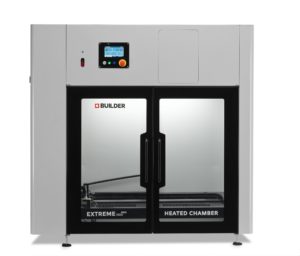 With a construction volume of 1100 x 500 x 820 mm, the Extreme 1500 PRO heated chamber is a fully enclosed industrial 3D printer designed to print large parts in full, such as molds, tools and end-use parts. The heated chamber makes it an ideal machine for industrial 3D printing applications, as the printed materials are heat-resistant and extremely strong. The newly developed print head is water-cooled and easy to use. Different nozzle diameters allow the user to optimize the print quality and speed for their specific project.
Builder Extreme 2000 PRO – price from 

€

28.995.00 excl. VAT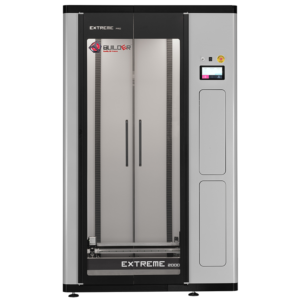 Builder Extreme 2000 PRO is one of the largest large format 3D printers available on the market.
The maximum print volume is 700x700x1700 mm (XYZ). Extreme 2000 PRO is equipped with features that make large-scale 3D printing worry-free. Features like fiber detection and a UPS system that resumes printing after a power outage make it a reliable machine for printing tasks lasting hundreds of hours. At the same time, the door locking system, the BOFA air filter and the 7-inch touch screen make it a user-friendly, professional and at the same time affordable 3D printer.
Builder Extreme 3000 PRO – price from 

€

36.995.00 excl. VAT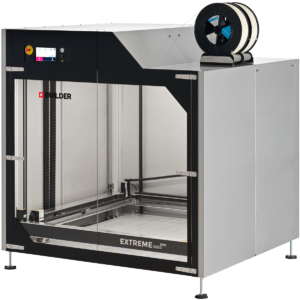 The Extreme 3000 PRO is manufactured to provide 24/7 production. Thanks to the extremely large construction volume of 1100x1100x820 mm XYZ, it is perfectly suited for industrial applications. With large format 3D printing, you have complete design freedom and can print large parts in one piece. The frame has been designed so that you can easily access the mounting plate from both sides by removing the side panels. 3 different nozzle diameters, 0.4, 0.8 and 1.2mm, are included to optimize print quality and time for your specific needs.
The machine is fully equipped with functions such as heated bed, fiber detection, accumulator and automatic pad leveling.
Material and service:
The delivery of printers also includes 24/ service by our company and delivery of printing material at the best prices on the market – which is the most important item in reducing production costs for large-volume printers.

Formlabs 3D printers – the highest quality SLA and SLS technologies at affordable prices.

Formlabs Form 3+, 3B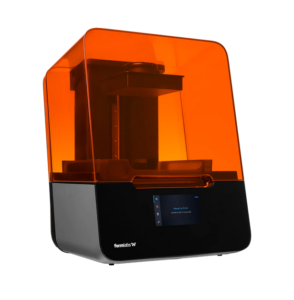 Create functional, high-quality prototypes and end-use parts in record time with Form 3+, an affordable, industrial-grade 3D printer that continues to deliver. Form 3+ offers high print speeds, top-notch accuracy and reliability, and a wide range of materials.
Laser point size 85 microns
Laser power 250 mW
Print volume: 14.5 × 14.5 × 18.5 cm
5.7 × 5.7 × 7.3 inches
Layer thickness: 25 – 300 microns.
Formlabs Form 3L
Work faster with the Formlabs Form 3L large format 3D printer. Form 3L is versatile enough to deliver large-scale in-house production. Whether you're doing production volume for mass production or printing bulky parts, Form 3L maintains ideal printing conditions for continuous throughput with minimal supervision. Two precision light processing units (LPUs) inside the printer achieve consistent accuracy and detail across the entire assembly. This allows for the incredible finish and fine details that stereolithographic 3D printing is known for.
Technology: Low Force Stereolithography (LFS) ™
XY resolution: 25 microns
Laser point size: 85 microns
Laser power: Two 250 mW lasers
Print volume: (W x H x H): 33.5 × 20 × 30 cm (13.2 × 7.9 × 11.8 inches)
Layer thickness: 25 – 300 microns
Formlabs fuse 1+

Produce functional parts and small series with a state-of-the-art 3D printer from Formlabs. Each Fuse 1 Selective Laser Sintering (SLS) 3D printer includes the essential tools needed to start printing and a one-year warranty.
Bring professional 3D printing to your desk with an affordable, compact Selective Laser Sintering (SLS) platform. Fuse 1 delivers industrial performance on a small footprint with efficient powder retention and easy adjustment. Our easy-to-use hardware and software are designed to maximize your efficiency at every step of the process, from print setup to powder recovery.
With final parts that combine power, flexibility, and detail, Fuse 1 prints are ready for rigorous functional testing or for customer-ready products to be shipped.
Printing Machine: Selective Laser Sintering (SLS)
Laser power: 30W
Print volume: 165 x 165 x 300 mm
Layer thickness: 110 μm / 0.11 mm
Material refresh rate: 30% – 50%
Start Time: 60 minutes
Connection: Ethernet or Wi-Fi
Dimensions: 64,5 x 68,5 x 107 cm
Weight: 114 kg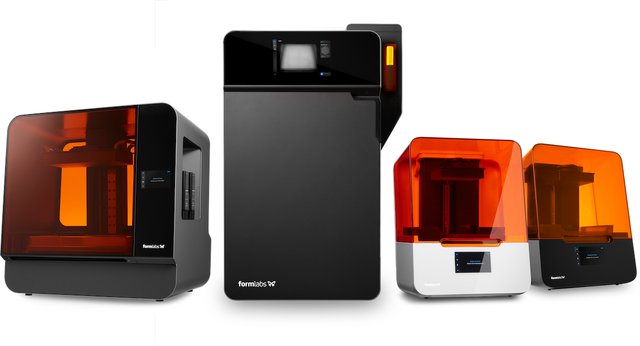 Extremely high-quality printers of extreme dimensions, this is Builder Extreme
We offer our used machines and equipment.
Trilab DeltiQ L 3D Printer: Ø 250mm (X, Y) x 300mm (Z) – price by agreement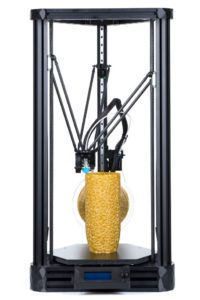 Professional 3D printer of the Czech manufacturer Trilab https://trilab3d.com , excellent print quality and high reliability of 3D printing. The device is from our operation and we are changing it for a higher version.
Our customers
Over the course of 3 years, thanks to our technologies, we have gained a lot of experience, friendships and new customers.
We believe that soon you will belong to our other satisfied customers.
Are you interested in our company? Write to us.
We will be happy to provide you with our many years of experience and together we will find the most economical and high-quality production of your product.